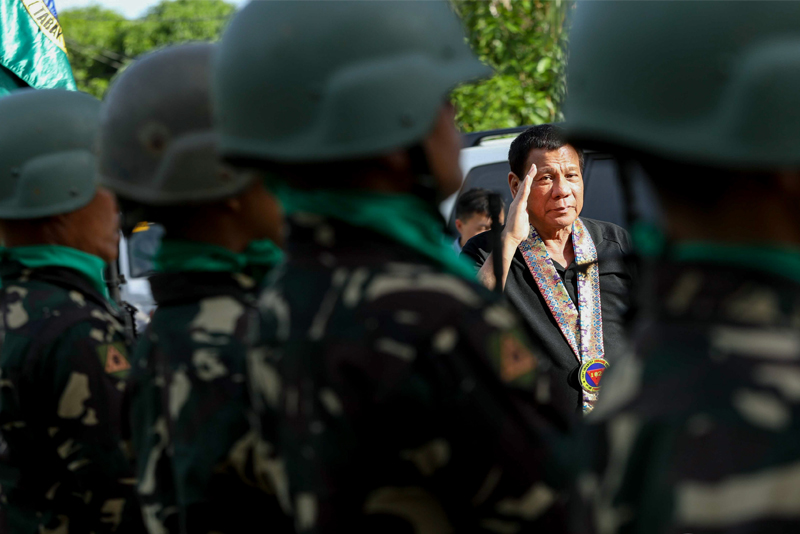 Iin this June 2, 2017 photo, President Rodrigo Duterte visits the 102nd Infantry Brigade Headquarters in Ipil, Zamboanga Sibugay. PCOO/Released
Duterte to critics: Martial law not meant to prolong my stay
MANILA, Philippines — President Duterte assured the public on Friday that he did not declare martial law in Mindanao to remain in power as he vowed to respect the Supreme Court's decision on his declaration.
Duterte said he is not proud of the martial law declaration and claimed that he would have resigned if one of his allies won as vice president.
If (foreign affairs secretary and his runningmate Alan) Cayetano or (former senator) Bongbong (Marcos) won, I would have left my post," the president said.
"You keep on asking when this (martial law) will end. This is my answer to the doubting Thomases: There is no ambition to perpetuate (myself) in power," he added.
The president chided politicians whom he said did not do anything but hanker and ask when he would lift martial law.
"Alam mo itong mga u*** na 'to (You know these fools), they (were) trying to think that we in government are trying to perpetuate our self in power," he said.
"I'm the second President to declare martial law. I am not proud of it. I am not happy because it indicates something that there is a trouble."
Duterte placed Mindanao under martial law on May 23 after Maute terrorists raided Marawi City, burned several buildings and kidnapped a number of civilians.
The president vowed to comply with the Supreme Court's decision on the martial law declaration, which is now facing legal challenges.
"Of course. We are bound by rules. It's the Supreme Court. Maybe you may differ individually…because you cannot agree on almost anything all the time," Duterte said when asked if he would follow whatever the high court would say with regard to martial law.
"I'm sure that they would take into account the fighting going on, and what's behind it. What is frightening is the ISIS (Islamic State of Iraq and Syria)," he added.
"Kung magbalik 'yung mga ISIS doon. Bahala na ang Supreme Court diyan mag-appreciate (If the ISIS returns there, it will be up to the Supreme Court to appreciate)."
Duterte to Maranaos: Step aside
Duterte also warned Moros to step aside in his campaign against Maute terrorists or be killed.
"My warning to my fellow Moros: Do not, do not attempt to play here. If you do not want to be harmed, step aside," the president said.
"Kaya 'yung mga kadugo ko, umalis kayo diyan sa Marawi (To my kin, leave Marawi). You are always welcome in Davao. Doon muna tayo. Huwag kayong magsali-sali kasi magpatayan lang tayo, 'yung magka-dugo. Ayaw ko 'yan (Stay there. Do not interfere or we might end up killing each other)," he added.
Duterte previously scored Maranaos for supposedly allowing the ISIS to enter Marawi City. He said the Maranaos allowed a "corrupt" foreign ideology to destroy the city.
Presidential Spokesman Ernesto Abella said Duterte may just be blaming Maranaos who sympathize with the Maute group.
"I doubt if it's a blanket blame…I would assume that what he's referring to are basically the sympathizers," Abella said.
Duterte also revealed that one of the persons in the arrest order issued by Defense Secretary and Martial Law Administrator Delfin Lorenzana tried to reach out to him.
"Solitario called. I said son of a b****, are you an ally of the government or are you an enemy? Lorenzana has ordered your arrest, son of a b****, I will really have you killed," the president said.
Duterte was apparently referring to Solitario Ali Salic, brother of former Marawi City Mayor Fajad Salic who was arrested in Cagayan de Oro City last Wednesday. Salic is one of the personalities enumerated in Lorenzana's Arrest Order 2.
Duterte told Solitario to talk to Presidential Peace Adviser Jesus Dureza but warned him not to surface or he would end up being arrested or even killed.
"Clear your name and prove that you are not part of that son of a b**** siege before we talk," the president said.
Duterte rejects NPA offer
Duterte reiterated that he is ready to talk with rebel groups but is not inclined to allow its members to fight alongside government troops in Marawi City.
He said the New People's Army (NPA), the armed wing of the communist rebels, "do not fit into the picture.
"The NPA offered to fight alongside the government troops. I said son of a b****, baka lahat ng tama ng sundalo ko sa likod. Walang sa harap (my soldiers may end up being shot from behind)," the president said.
"It's not because I do not trust them but it simply does not fit into the picture," he added.
The National Democratic Front (NDF), which represents the communists in the peace talks, said the communist fighters can help in the campaign against terrorists if the Duterte administration lifts martial law in Mindanao.
Malacañang has said a cooperation is unlikely if the NDF continues to insist on its conditions.
"A potential cooperation is unlikely with the statement of the National Democratic Front of the Philippines that it would cooperate with the government in fighting the Maute group if we would lift the declaration of martial law and withdraw our all-out war policy," Abella said in a statement.