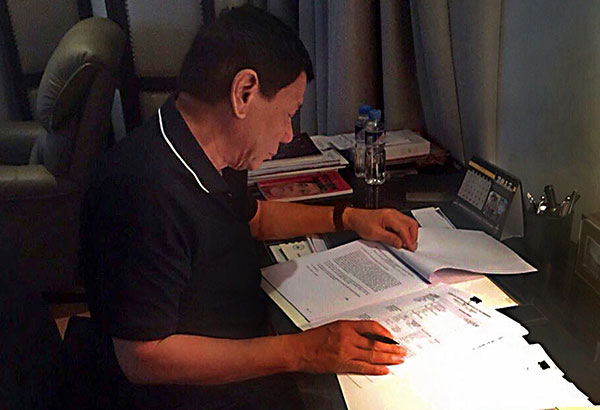 President Duterte goes over official documents at Malacañang's Bahay Pagbabago before 6 p.m. yesterday. The photo was taken by Christopher Go, special assistant to the President.
MANILA, Philippines — President Duterte is fatigued, not ill, Palace officials stressed yesterday.
"Tired. He's just tired. Like I said, he has been on the road for about 23 days… fulfilling his martial law supervision," presidential spokesman Ernesto Abella said yesterday, insisting that President Duterte is spending private time and resting.
"It has been really brutal so we have to allow him this kind of rest," he added.
Asked anew by the media yesterday about the health of Duterte, who has not been seen in public since Monday, Abella replied, "Don't you ever rest? I'm saying that there is nothing to worry about in terms of sickness, major sickness."
Duterte's long-time aide Christopher Go released a photo of the President doing paperwork.
Go said the photo was taken a few minutes before 6 p.m. yesterday at the Bahay Pagbabago in Malacañang Park.
He also released a photo of him with the President, who was wearing a black polo shirt. A television tuned in to the ABS-CBN News Channel could be seen in the background. The news station was reporting about the Grenfell Tower fire in London when the photo was taken.
Malacañang's announcement that the President is spending private time has created speculations about the state of his health.
There were even rumors that Duterte was brought to a hospital in Metro Manila but officials denied this.
Chief presidential legal counsel Salvador Panelo said the 72-year-old Duterte is "as strong as a bull." Panelo said Duterte sounded "upbeat" when he spoke with him Wednesday night.
"Last night (June 14), I was talking to him and he sounded very strong and upbeat. So I think he's strong as a bull and could be sleepy as a night owl. Why? Because he's been visiting and doing the rounds of soldier casualties," Panelo told reporters.
"Many have died so there's so many to visit. During Independence Day, he really lacked sleep. I understand he came home around 6 o' clock in the morning. He was really tired," he added.
Duterte skipped the Independence Day ceremonies in Manila last Monday to get some rest, according to officials. He has not had any public engagement since then.
Panelo said Duterte had told him that he was very busy but did not elaborate.
"When I was talking to him, I did not ask (what he was doing). I did not ask him. He just said 'I am very busy now. There are many problems in Mindanao.' That's what he told me," Panelo said.
Panelo said the phone call took place at about 7 p.m.
"He sounds upbeat and he sounded natural. In fact, he was laughing because I was relaying a story that made him laugh," he said.
Panelo dismissed as "wild speculation" claims that the President is sick.
"Let me disappoint those who may think that he's sick and may want him sick. He's not. Definitely," he said.
Officials could not say though when the President's next public engagement would be.
"Well, you know, he's taking some time off so I cannot really give you the definite date. But he's just taking some time off to rejuvenate," Abella said.
Asked to react to lawmakers call for regular updates on Duterte's health, Abella said: "Well, it's usually given, for example, like this in press briefings, we usually give you that."
Abella said the President might visit evacuees in Marawi City "as soon as he can fit it in to his schedules."
Back to Davao City
President Duterte went home to Davao City last night for the weekend, after resting in Bahay Pagbabago since Monday.
Duterte is taking an extension of his private time while he is home with his family.
"He really needed a rest. There is nothing wrong with him. He is OK. It was just that his busy schedule for the past weeks has taken its toll on him. And just like anybody else, he is entitled to take the time off to rest and sleep," a source close to the President said.
Duterte took the time off to catch up on his sleep following his hectic schedule for the past months, including successive foreign trips to Cambodia, Hong Kong and Beijing last month.
The President also went to Russia but decided to come home less than 24 hours upon arrival in Moscow where he declared the implementation of martial law in Mindanao after the notorious Maute group attacked Marawi City last May 23.
And since arriving home from Russia last May 24, the President worked non-stop and spent sleepless nights overseeing the implementation of martial law in Mindanao as well as looking into the military and police operations in Marawi.
But the source said that even if the President was taking private time, he was still given daily briefings on what has been happening in the country during the week.
The President has reportedly kept his official schedule free of any public engagements until Sunday.
Meanwhile, Sen. Risa Hontiveros yesterday took jabs at Duterte for allegedly being one of the elected national leaders who have been setting a bad example that is fostering a "culture" of sexism and misogyny.
Hontiveros said during a conference for the Safe Cities Program of UN Women that Filipinos should expect more of the country's "highest elected government official" who she said has been setting a bad example for the public in his statements and speeches, although not naming Duterte directly.
"That culture is nothing new but it has certainly gained groundwork in the last year. It continues to find space and has found new people to defend it. This language combined with culture of impunity and blatant disregard for human rights is the clearest and most gruesome manifestations of macho values as an excuse to use violence to defend misogynistic values," Hontiveros said.
The senator recalled that there have been "warning signals" after Duterte was said to have made a rape joke pertaining to an Australian missionary during a campaign rally last year.
She also slammed Duterte's statement that he will take responsibility for rape cases committed by the armed forces, up to three times, as well as the his comments on the knees of Vice President Leni Robredo during an official event. — With Romina Cabrera, Edith Regalado