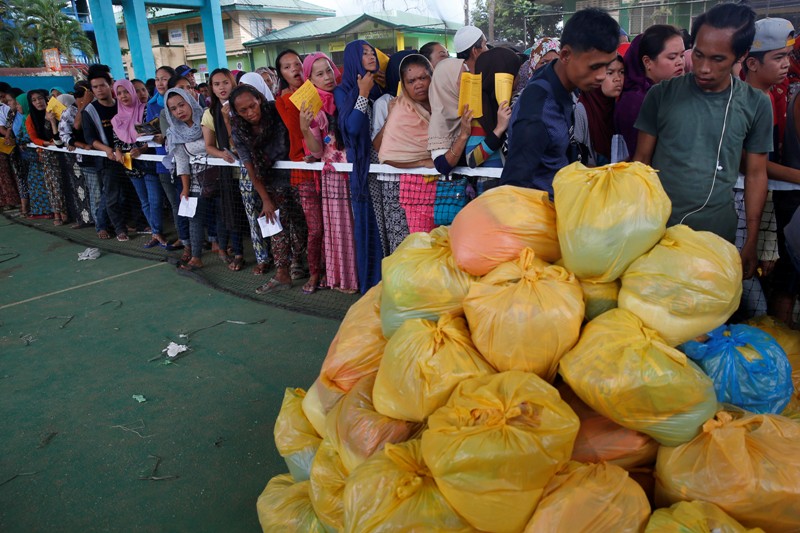 Displaced residents of Marawi city queue up to receive relief and food supplies at an evacuation center in Balo-i township, Lanao del Norte province, southern Philippines Wednesday, May 31, 2017. Tens of thousands of residents are now housed in different evacuation centers as Government troops fight with Muslim militants who laid siege in Marawi city Tuesday of last week. AP/Bullit Marquez
AFP explains Marawi aid volunteers blocked due to lack of coordination
(philstar.com) - June 16, 2017 - 8:55am
MANILA, Philippines — The Armed Forces of the Philippines explained Friday that volunteers carrying relief goods for Marawi evacuees were denied entry due to lack of coordination between the local government and the military.
The National Interfaith Humanitarian Mission was blocked Thursday by troops at a military checkpoint between Iligan and Marawi as only the local government and other officials are allowed entry due to the ongoing conflict.
Military spokesman Brig. Gen. Restituto Padilla said at a press briefing that the group was part of a convoy that was supposed to deliver relief goods but might have failed to coordinate with the local government.
Former Bayan Muna Rep.Teddy Casiño, in a Facebook post, however, said their group was in talks with local government officials and they were scheduled to have a meeting with them to learn what further assistance is needed. The group was set to distribute 400 packs of relief goods.
"LGU officials later told us that under martial law, it was the military that had the final say on such matters," Casiño said.
"We are still seeking an explanation on the AFP's action and find their reason for denying aid to the evacuees unacceptable," he added.
Asked about this by the press, Padilla said the local government "did not coordinate with the military." Otherwise, he added, the military would not have recommended the group to push through with their planned entry in Marawi.
Padilla said that in the interest of safety, the military has requested all those who have been giving relief goods to channel them through the local government.
"As you may have heard there was an incident involving a mediaman yesterday right at the very heart of the capitol where a stray bullet grazed his neck so we don't want anyone getting hit by any of this stray bullets if they go to Marawi itself," he explained.
"[W]e have been working closely with local government and its social welfare arm and health arm to provide the services needed by the evacuees without necessarily having people from the outside exposed to danger."
Casiño said their group instead proceeded to evacuation areas near the town of Saguiran to distribute relief goods and offer medical aid and therapy to the evacuees.
RELATED: Security beefed up over possible Maute presence in Iligan, Cagayan de Oro