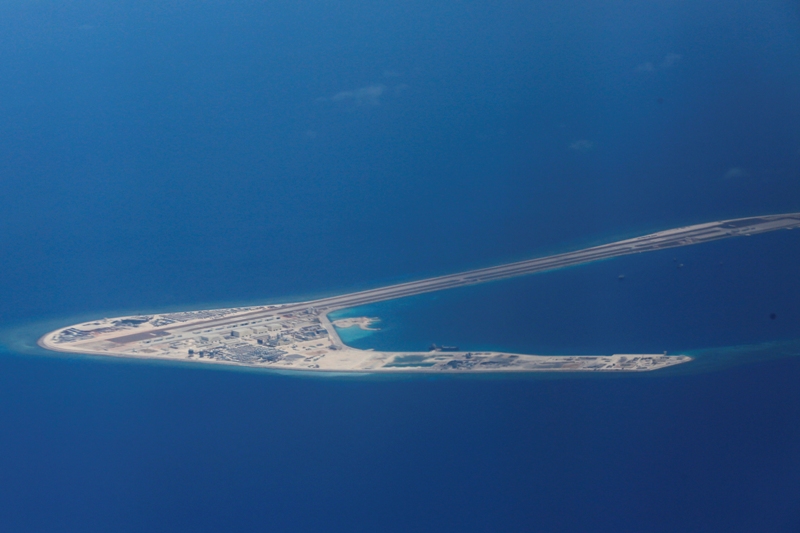 In a statement yesterday, the Department of Foreign Affairs (DFA) said the bold decisions of the Duterte administration in pursuing what it called an independent foreign policy have become a game changer not only in the geopolitical landscape in the region, but in the lives of Filipinos. Francis Malasig/Pool Photo via AP, File
Gov't cites benefits from being regional peacemaker in South China Sea
MANILA, Philippines - On the first anniversary of the landmark decision favoring Philippine claims in the South China Sea, the Duterte administration called itself a "regional peacemaker" and emphasized the "benefits" of improved relations with China.
In a statement yesterday, the Department of Foreign Affairs (DFA) said the bold decisions of the Duterte administration in pursuing what it called an independent foreign policy have become a game changer not only in the geopolitical landscape in the region, but in the lives of Filipinos.
"The Duterte administration reaffirms its unwavering commitment to protect our country's territorial claims and maritime entitlements, but believes that the ongoing territorial dispute in the West Philippine Sea should further be resolved in a manner consistent with the spirit of good neighborly relations," the DFA said.
"The Philippine approach has led to great benefits for the country, allowing us considerable economic gains as well as strengthening our status as ASEAN chair and regional peacemaker.
"We have received investment and financial assistance commitments upwards of $30 billion from our partners in the region. These significant developments have likewise allowed our defense resources to also address other pressing security concerns facing the country," it added.
The DFA also said that through the adoption of positive neighborly relations, Filipino fishermen are back fishing in Panatag (Scarborough) Shoal, one of the areas being claimed by China.
'DFA message is like China's announcement'
For former national security adviser Roilo Golez, the DFA statement on the first anniversary of the arbitral award favoring Philippine claims is more of an "announcement of what China has contributed to the Philippines."
"More of an anniversary of China," Golez said in a forum organized by the Stratbase-Albert del Rosario Institute at the Manila Polo Club.
Foreign Affairs Secretary Alan Peter Cayetano reiterated that the Duterte administration is committed to its strategy of strengthening old alliances and engage new partner nations.
"The Philippines shall remain an enemy to none and a friend to all in its pursuit of economic and political benefits for the country, including the long-term security and stability in the region," Cayetano added.
The DFA also noted that the Philippines is further encouraged by the Agreement on a Framework on the Code of Conduct on the South China Sea that will help the country move towards negotiating an effective Code of Conduct (COC).
The DFA said the draft framework for the CoC, which the leaders of the ASEAN and China finalized in May, contains elements which the parties have agreed upon.
But the draft does not call for a legally binding code of conduct as some ASEAN countries had wanted.
The draft framework for the COC will be presented to the foreign ministers of ASEAN and China at their post-ministerial conference in Manila in August.
Cayetano said that although many countries want the framework for the COC to be legally binding, it would be better to start it as a "gentlemen's agreement."