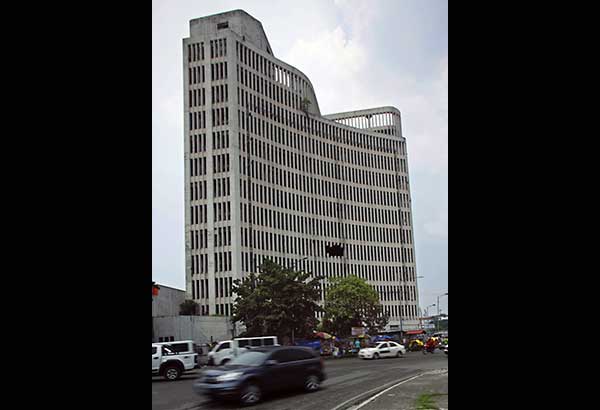 The old BIR building, formerly the Philbanking Corp. building, on Bonifacio Drive in Manila has been condemned by the city government. ERNIE PEÑAREDONDO
Old BIR building sends jitters across Port Area during quake
MANILA, Philippines - Residents and employees in Port Area, Manila yesterday expressed fear over the possible collapse of the condemned old Bureau of Internal Revenue (BIR) building if a strong earthquake hits the city.
They questioned the stability of the building after a magnitude 6.3 earthquake struck Luzon at 1:28 p.m. on Friday, with epicenter traced to Lian, Batangas.
Manila was recorded to have felt the quake at Intensity 4.
Among the offices around the condemned building are The Philippine STAR, LBC, Philippine Red Cross, Eastern Shipping Lines and the Lecson Business Services, and several eateries.
Motorists passing Anda Circle and Bonifacio Drive could also be in jeopardy as they could be hit by falling debris.
The building was the former office of the Philbanking Corp. but is now owned by the Manila city government. It was ordered condemned by Manila Mayor Joseph Estrada.
The Philippine Ports Authority had reportedly requested that the building be demolished.
Estrada said the city government is still studying what to do with the building, which has been used for location shooting of some films.
Built in 1965, the building is considered an important property under the National Heritage Act.
National Artist Jose Ma. Zaragoza built the structure.
Zaragoza also designed the Casino Español de Manila building on T. M. Kalaw Street, which was completed in 1951; Sto. Domingo Church in Quezon City in 1954; Villa San Miguel in Mandaluyong in 1954; Pope Pius XII Catholic Center in Manila in 1958; Meralco Building in Ortigas in 1965 and the Commercial Bank and Trust Co. along Escolta in 1969.
He was posthumously declared National Artist for Architecture in 2014. – With Jose Rodel Clapano