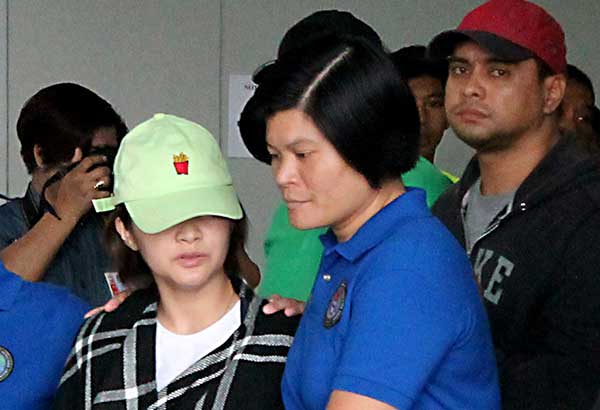 Ozamiz Vice Mayor Nova Princess Parojinog-Echavez and her brother Reynaldo Parojinog Jr. arrive at the NAIA-3 with police escorts on their way to Camp Crame. EDD GUMBAN, file
Parojinog siblings test negative for shabu, marijuana use
AJ Bolando
(philstar.com) - August 15, 2017 - 9:35am
MANILA, Philippines – Ozamiz City Vice Mayor Nova Princess Parojinog-Echavez and her brother Reynaldo Jr. have tested negative for methamphetamine and marijuana, a development that police said will not weaken allegations their family is behind the illegal drug trade in their city.
Superintendent Ramos Bergonia of the Philippine National Police Crime Laboratory confirmed the results of the drug tests of the Parojinog siblings and others who were arrested following the bloody raid in July that killed their parents, Ozamiz City Mayor Ozamiz City Mayor Reynaldo Parojinog Sr. and his wife Susan.
"Urine specimens of the arrested living persons gave negative results to the test for the presence of methamphetamine and THC-metabolites, both dangerous drugs," Bergonia said in a press briefing at Camp Crame in Quezon City on Tuesday.
Chief Superintendent Dionardo Carlos, PNP spokesman, clarified that the negative results for illegal drugs will not affect the case against the siblings.
"Hindi naman dahil 'yung naging operation ng CIDG is servicing of the warrant for any contraband that is indicated in the six search warrants – high powered firearms, explosive and drugs," Carlos explained in the same briefing.
"So yung dalawang nag-negative (Parojinog siblings), hindi naman negative yung result ng search warrant. Kung nag positive sila (drugs), maaaring magkaroon pa ng additional violation of Republic Act 9165 or use of illegal drugs," he added.
The siblings are currently detained at the PNP Custodial Center.