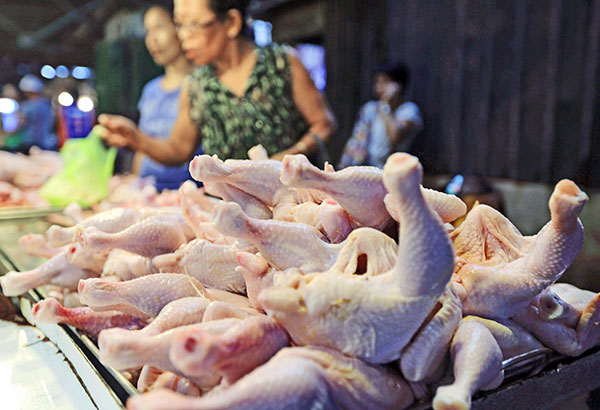 BAI Animal Health and Disease Control section head Arlene Vytiaco said in a telephone interview that her bureau has not reversed its earlier circular allowing chicken and related fowl products to be transported to the Visayas and Mindanao. File
Nueva Ecija culling nearly done; live chicken prices drop
SAN FERNANDO, Pampanga, Philippines – The culling of avian flu-infected fowl in Nueva Ecija is expected to be finished tomorrow, amid reports that the price of fresh chicken has plunged in many markets in Central Luzon, the Bureau of Animal Industry (BAI) said yesterday.
BAI Animal Health and Disease Control section head Arlene Vytiaco said in a telephone interview that her bureau has not reversed its earlier circular allowing chicken and related fowl products to be transported to the Visayas and Mindanao.
"The administrative circular stands," she said amid media reports that BAI had withdrawn its decision.
She stressed, however, that fowl from the seven-kilometer radius controlled zones in San Luis in Pampanga and in Jaen and San Isidro, Nueva Ecija are not covered by the circular.
At the same time, Vytiaco said that as of yesterday, no other report of avian flu cases has been reported in any part of the country.
"We have been strictly monitoring and we have not received any report of unusual deaths of chickens and other fowl anywhere else," she said.
Department of Agriculture-Region 3's Agri-business and Marketing Division chief Carmencita Nogoy said that lack of buyers has brought down further the price of fresh chicken to only P90 per kilo from an average of P130 per kilo before the avian flu outbreak in San Luis, Pampanga over a week ago.
"People in Central Luzon remain in fear of buying chicken, except in Bataan and Zambales where the price of chicken has been reported at the normal P130 per kilo," she said.
The P90 per kilo price is the lowest so far, down from P95 per kilo last week.
Meanwhile, Vytiaco said that an Australian laboratory had confirmed Type A Sub-type H5 avian flu strain in San Luis. Its confirmatory study on whether the samples from San Luis were of the N1 strain that could be contracted by humans is not expected for three days.
"It turned out that the Australian laboratory lacked specimens, so it had to culture the specimens to be able to conclude its study within three days or by Friday," she noted.
Gov't decision hailed
In Pangasinan, Samahang Industriya ng Agrikultura (Sinag) president Rosendo So yesterday hailed the government's decision to lift the ban on the transport and shipment of poultry and poultry products nationwide.
So, who hails from Rosales in this province, said the lifting of the ban means poultry products like eggs can be shipped to the Visayas and Mindanao.
He said the ban imposed by Agriculture Secretary Emmanuel Piñol on Aug. 11 to contain the avian flu virus that hit San Luis, Pampanga and later in Jaen and San Isidro in Nueva Ecija has resulted in tremendous losses of up to P179 million daily to the poultry industry.
On Sunday, when they had a meeting, their colleagues in Bulacan said live weight market price of broiler dropped to as low as P30 per kilo. Others were even bargaining at P20 a kilo, he added.
So said he hopes the government would handle the situation well even as he is optimistic that by October to December, prices will stabilize. – With Eva Visperas, Lorraine Mitzi Ambrad, Juancho Gallarde/The Freeman