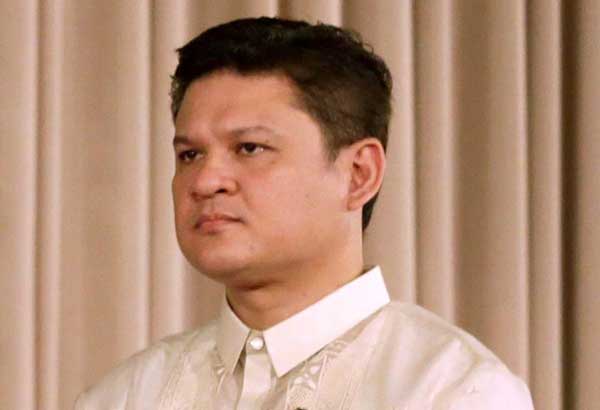 "This is a nationwide broadcast so I might as well tell you. I am not defending my son. Prove it. If it is true, I will resign," Duterte said during the inauguration of the Solar Philippines factory here. File
Rody to quit if son Paolo into smuggling
STO. TOMAS, Batangas, Philippines – President Duterte yesterday stressed that he is ready to step down if his children are involved in irregularities in the wake of allegations that his son, Davao City Vice Mayor Paolo Duterte, has ties with a group involved in smuggling.
"This is a nationwide broadcast so I might as well tell you. I am not defending my son. Prove it. If it is true, I will resign," Duterte said during the inauguration of the Solar Philippines factory here.
"I said anyone involved in my family, if they are into corruption, I will step down from the presidency. No excuses, no apologies," he said.
The President made the remark a day after broker Mark Taguba claimed that a group with alleged ties to the younger Duterte had asked him for P5 million to facilitate the entry of his shipments without scrutiny.
Taguba previously claimed that Paolo was name-dropped by people involved in bribery at the Customs bureau.
He said a certain "Tita Nanie" to whom he was giving P10, 000 bribe per container, had told him that the payment would go to a "Davao group" led by the vice mayor.
But Taguba admitted that it is possible that the presidential son was just being used to fast-track the entry of smuggled goods.
Duterte said Paolo has been selling merchandise since eloping with a Muslim lady, whose father is a Tausug and whose mother is a Maranao.
"At the age of 18, he eloped with a Moro lady named Lovelie," the President said.
"They are vendor in Davao – jars, ukay-ukay (used clothing)… He would go to the pier and help his in-laws… And he has to earn his keep and he had to work for the family."
"Pero kung 'yung mga jars, ukay- ukay, 'yung pinapalusot ng in-laws niya (If the jars, used clothing peddled by his in-laws), if that is smuggling, then give me an accounting and I will resign. Walang problema 'yan sa akin (I have no problem with that)," the President said.