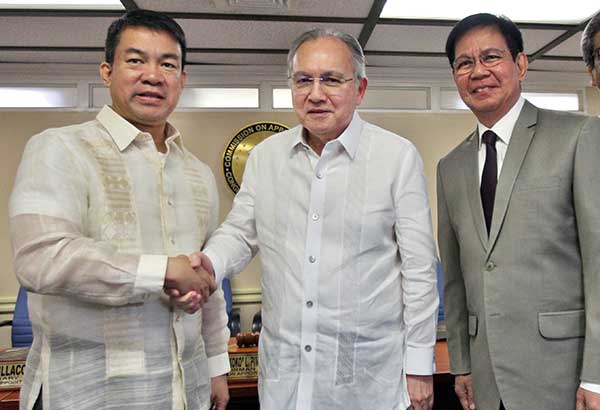 Jose Manuel Romualdez is flanked by Senate President Aquilino Pimentel III and Sen. Panfilo Lacson after his confirmation as ambassador to the US yesterday. ERNIE PEÑAREDONDO
Paolo Romero
(The Philippine Star) - August 23, 2017 - 4:00pm
MANILA, Philippines - The Commission on Appointments (CA) confirmed yesterday the appointment of Jose Manuel "Babe" Romualdez as Philippine ambassador to the United States.
Romualdez will also have jurisdiction over Jamaica, Haiti, Trinidad and Tobago, Antigua and Barbuda, Bahamas, Barbados, Dominica, The Federation of Saint Kitts and Nevis, Saint Vincent and Grenadines and Saint Lucia.
It was a swift confirmation process for Romualdez, whose appointment was discussed by the CA committee on foreign affairs chaired by Sen. Panfilo Lacson before it was presented and approved in plenary in less than three hours.
Romualdez, a nephew of former first lady Imelda Marcos, told reporters he intends to make relations between Manila and Washington "warmer" despite President Duterte's strong language against the US.
"So with the independent foreign policy advocated by the President, we will try to communicate that as well as we could and I think the US is cognizant of the fact that we try our best to get warmer relations with many other countries as part of our foreign policy," he told reporters.
Romualdez cited that despite the reported strain in relations, ties between the two countries' militaries are "more cordial than ever."
Romualdez said the US has recently delivered military hardware to help strengthen the country's security. He also cited the advantages of maintaining the Enhanced Defense Cooperation Agreement with the US to improve the country's preparedness and response to disasters.