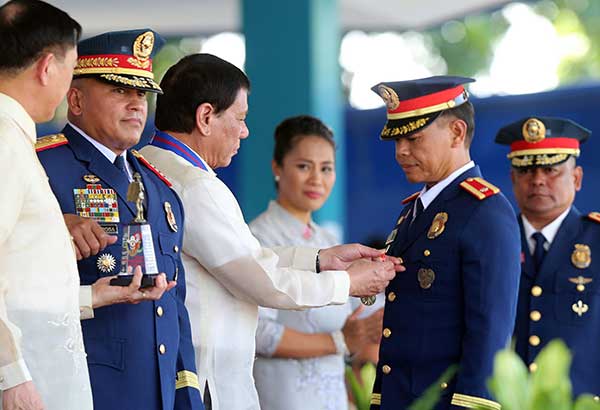 The clamor of residents of Ozamiz City who even planned to stage a people power protest to stop the transfer of Chief Insp. Jovie Espenido to Iloilo City had prompted President Rodrigo Duterte to recall his earlier order reassigning the police chief. The STAR/Krizjohn Rosales, File
Rody recalled Espenido's transfer to Iloilo
MANILA, Philippines — The clamor of residents of Ozamiz City who even planned to stage a people power protest to stop the transfer of Chief Insp. Jovie Espenido to Iloilo City had prompted President Duterte to recall his earlier order reassigning the police chief.
Philippine National Police (PNP) chief Director General Ronald dela Rosa said yesterday that the request of residents and police officers in Ozamiz City changed the mind of the President. ?
Dela Rosa told reporters at Camp Crame in Quezon City that the President told him to grant the wish of the people of Ozamiz and keep Espenido in the city.?
During the celebration of National Heroes Day last week, President Duterte announced his order to transfer Espenido from Ozamiz City to Iloilo.?
Sources, however, said Espenido's transfer was halted due to seniority qualification rules in the police organization, particularly his rank.
Based on the internal rules, highly urbanized cities like Iloilo require a police official with a rank of senior superintendent. Espenido's rank is two promotions away.?
Espenido became famous after two mayors – Rolando Espinosa of Albuera, Leyte and Reynaldo "Aldong" Parojinog of Ozamiz City – were killed during police operations while he was the police chief in the two localities.?
Last Friday, Espenido said that he had to delay his transfer to Iloilo City because he had one more important mission in Ozamiz City – track down Ricardo "Ardot" Parojinog, brother of the slain Ozamiz mayor, and other members of the city's crime group.?
Ardot remains at large.?Ardot reportedly managed to escape as Espenido's team raided several houses of the Parojinogs in Ozamiz City, where the mayor, his wife Susan, sister Mona, brother Octavio and 11 others were killed.
Several other individuals, including Aldong's two children – Vice Mayor Nova and Reynaldo Jr. – were arrested after the raid.