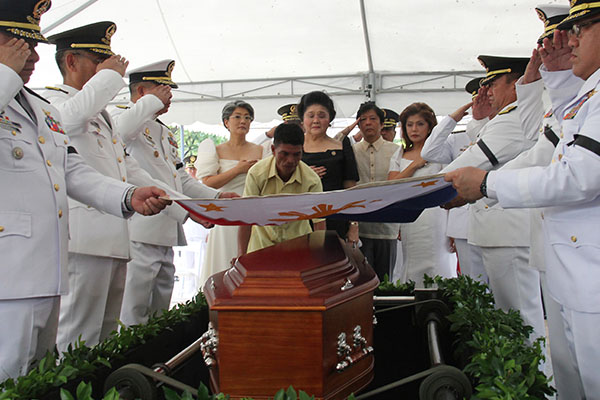 In this photo provided by the Office of the Army Chief Public Affairs Headquarters Philippine Army (OACPA HPA), soldiers fold the national flag over the casket of the late Philippine dictator Ferdinand Marcos during his burial at the Heroes' Cemetery in Taguig City, east of Manila, Philippines Friday, Nov.18, 2016. Despite growing opposition, after the Supreme Court ruled that one of Asia's most infamous tyrants can be entombed in the hallowed grounds, Marcos was buried Friday at the country's heroes' cemetery in a secrecy-shrouded ceremony which opponents said mocked the democratic triumph won when a "people power" revolt ousted him three decades ago. OACPA HPA via AP
Marcoses to commemorate late dictator's 100th birthday at Libingan
(philstar.com) - September 8, 2017 - 5:35am
MANILA, Philippines — The Marcos family sent out invitations to celebrate on Monday the 100th birth anniversary of late dictator Ferdinand Marcos, whose surprise burial last year at the Heroes' Cemetery was met with nationwide protests.
Akbayan party-list Rep. Tom Villarin, among lawmakers demanding the return of the ill-gotten wealth of the Marcoses, showed a copy of the invitation to reporters Friday.
The program will begin with a mass at 9:30 a.m. followed by a short program then lunch, the invitation detailed.
Marcos' controversial hero's burial was a fulfillment of a campaign vow of President Rodrigo Duterte who admitted being
indebted
to the late strongman's daughter, Imee Marcos.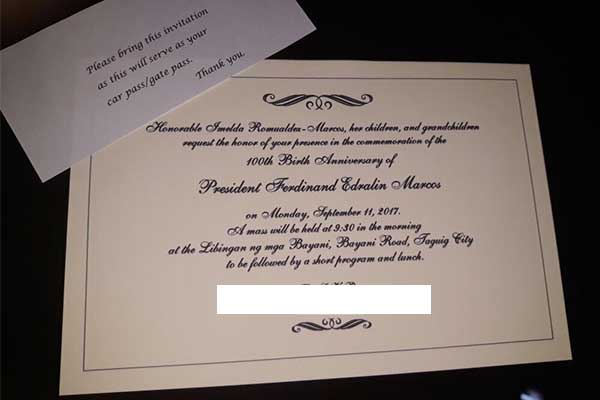 A photo of the invitation showed to reporters by Akbayan party-list Rep. Tom Villarin.
Duterte also declared September 11 a special holiday in Ilocos Norte, Marcos' home province, to mark the late dictator's birth anniversary.
BAYAN Secretary-General Nato Reyes tagged the declaration as "another step towards the full rehabilitation of the Marcos family."
"Duterte seems to be setting the stage for an eventual compromise deal with the dictator's family. The Marcos restoration is a grave injustice inflicted on the thousands of human rights victims under Martial Law," he added.
The Marcoses returned to the Philippines from their ignominious exile to Hawaii in 1986. His widow Imelda is currently 2nd District representative of Ilocos Norte while Imee is the province's governor. His son, Bongbong, ran for vice president but lost by 263,473 votes to Leni Robredo. His electoral protest against the results is ongoing.
— Mikas Matsuzawa