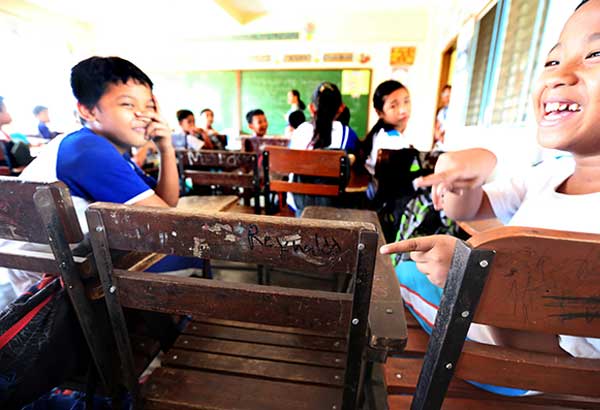 Classmates of slain Grade 5 student Reynaldo de Guzman, not fully comprehending his brutal fate, point to his seat at the Maybunga Elementary School in Pasig City yesterday. BOY SANTOS
Pasig school's class 'kuya' wanted to be a cop
MANILA, Philippines — At age 14, Reynaldo de Guzman was the oldest among his 42 fifth grader classmates. And the boy who reportedly dreamed of becoming a policeman acted the part of kuya or big brother.
In Section 7, Neptune class at the Maybunga Elementary School in Pasig City, De Guzman's desk seat, with his surname scrawled at the back, stands empty between two 11-year-old classmates on the third row.
De Guzman's adviser Doreen Ty said she relied on the only teenager in Section 7 to act as "class leader" whenever they had activities outside the classroom or when she had to temporarily leave the room.
Upon learning of the boy's brutal murder, Ty had a sleepless night on Wednesday and was so distraught she decided to skip classes the next day.
Sander Umali, 11, recalled that De Guzman reminded him a few days before he went missing not to join hoodlums hanging out near their school if he wanted to have a good future.
Russel Senangote, 11, echoed Umali's recollections of De Guzman as a big brother. De Guzman sat between the two boys in their class.
For being a good leader and a big brother to his classmates, Ty said she always gave De Guzman a reward such as food during recess and occasionally some pocket money.
Ty remembered their last conversation before De Guzman went missing on Aug. 17. She had advised him to have his mop of curly hair trimmed, and she promised to give him the school uniform of her child. But she said the boy liked his hair long.
Ty brought the uniform the next day, but De Guzman had gone missing. Seeing news on TV about De Guzman's gruesome fate, Ty said she seemed to hear his voice crying for help, leaving her sleepless and upset.
"Hindi ako nakapasok kasi hindi ako nakatulog sa kaiisip din at naririnig ko lagi boses niya na parang humihingi ng tulong ... hindi ako mapakali; ang bigat ng pakiramdam. Tapos nauulinigan ko lagi boses niya," a weeping Ty told The STAR.
De Guzman's father Eduardo said his son wanted to become a policeman to help his siblings and get the family out of poverty.
"Sabi niya sa akin at sa mama niya na gusto niyang maging pulis para makatulong sa mga kapatid niya," Eduardo told The STAR at his son's wake in Cainta, Rizal.
De Guzman's wake is in a room beside the Barangay Hall in San Andres. His parents plan to bury him on Tuesday but there is still no burial site.
Cinon Barachia Jr., barangay official in San Andres, said De Guzman had no bad record in their community.
Jason Javier, guidance counselor of Maybunga Elementary School, said he knew De Guzman personally and the boy had no bad record in their school.
Javier said Reynaldo was courteous to elders, touching his forehead to their hands and addressing them with honorifics.
The Maybunga Elementary School offered a mass for De Guzman last Thursday morning. The school is also raising a small amount to help De Guzman's parents defray burial expenses.
Javier said that while he supported the government's war on drugs, he hoped that De Guzman would be the last collateral damage. The counselor said he was starting to fear for the safety of his own children: "Maganda ang kampaniya ng gobyerno na mapabuti ang bansa, pero mayroon nang nadadamay. Sana yun na ang maging huli kasi nasa punto na tayo na tayo mismo ay natatakot na din. Takot na ako na baka sa anak ko din ito mangyari."
After what happened to De Guzman, Javier said the school has intensified its drive to educate parents on how to take care of their children.