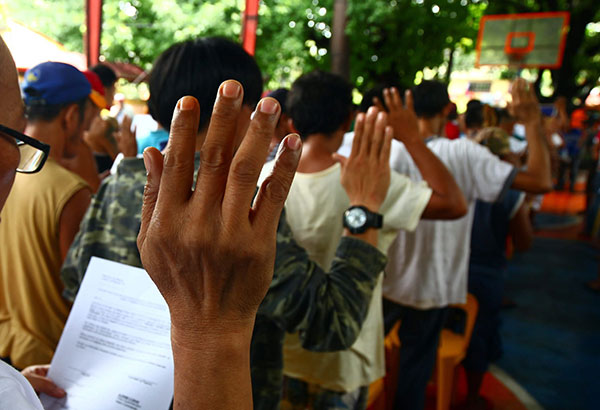 According to media reports, the five regional drug treatment and rehabilitation centers being constructed in Taguig City and in the provinces of Isabela, Mountain Province, Palawan and Zamboanga are all funded by private money. KJ Rosales/File
Gov't drug rehab centers get P2-B cut — Recto
Paolo Romero
(The Philippine Star) - September 10, 2017 - 4:00pm
MANILA, Philippines — The Department of Health (DOH) allocation for next year's operations of government-run drug abuse treatment and rehabilitation centers will be hit with a massive P2.31-billion cut under the proposed national budget for 2018, Senate President Pro Tempore Ralph Recto said yesterday.
Although the proposed gross budget for DOH in 2018 is P164.8 billion, which is nine percent higher than this year's P151.3 billion, Recto noted that the DOH-managed rehabilitation facilities will go down to only P759.6 million from the current P3.08 billion.
"If drug addiction is a disease, is this budgetary prescription from our health officials the right one?" Recto said.
"The word from the DOH is that private donations will make up for the difference. If that is the case, DOH should submit a listing of where the replacement funds would come from because that is too big a vacuum to fill," he added.
Recto said the unofficial explanation he got was that the so-called "mega rehab centers" will be built by private donors.
"Fine. But what about the manning of those centers? The training of personnel? Are the funds sought enough?" Recto said.
According to media reports, the five regional drug treatment and rehabilitation centers being constructed in Taguig City and in the provinces of Isabela, Mountain Province, Palawan and Zamboanga are all funded by private money.
The reduced P759.6 million budget being sought for 2018 will be used to run 14 drug abuse treatment and centers, one of which will be opened next year, and to support the operation of the "mega rehab center" a Chinese tycoon built in Nueva Ecija.
"Is that money enough for the DOH hospitals with drug rehabilitation programs? Will it be enough to support community-level abatement programs?" he said.
He said the lack of rehabilitation centers will cripple the "declared government policy" to help substance abusers turn over a new leaf.
"The existing policy is still 'save the users' and not 'salvage the users.' For as long as that policy remains, then government is duty-bound to help those who have volunteered for treatment by providing a new path to a better life for them," Recto added.
He said the government's anti-drug drive hinges not on the mass killing of drug-dependents but on their mass rehabilitation. – With Rainier Allan Ronda