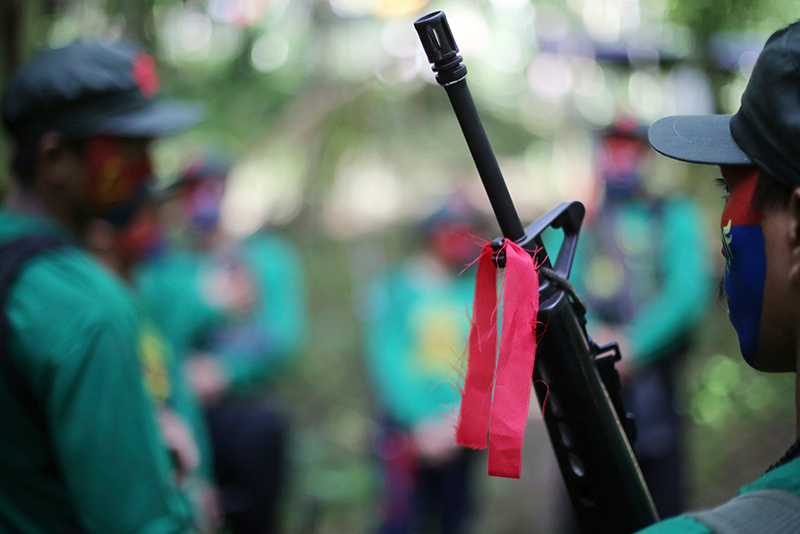 The Communist Party of the Philippines has rejected President Rodrigo Duterte's demand for the New People's Army to surrender first before peace talks can resume. AP/Aaron Favila, File
Rody's surrender demand unacceptable — Reds
BAGUIO CITY, Philippines — The Communist Party of the Philippines (CPP) has rejected President Duterte's demand for the New People's Army (NPA) to surrender first before peace talks can resume.
"This is unacceptable," the CPP said. "Does he really take the revolutionary forces for fools?"
The CPP said that the President, who earlier claimed having long-time friendship with the Left, "has lost all moral grounds to make such a demand," citing the NPA's declaration of a ceasefire on Aug. 19, 2016 that lasted close to 160 days supposedly as a response to Duterte's signed commitment to release around 500 political prisoners through an amnesty proclamation.
Duterte, however, "wasted the goodwill of the NDFP when it failed to fulfill its commitment and took advantage of the ceasefire to deploy his soldiers and conduct military offensives," the CPP said, referring to the National Democratic Front of the Philippines.
The CPP, which claims to have absolute command over the NPA rebels scattered throughout Luzon, the Visayas and Mindanao, said that the people clamor for the NPA to mount more tactical offensives in the face of Duterte's tyrannical rule and triple war.
"Victories of the people's army inspire resistance amid widespread killings and the climate of fear imposed by the Duterte regime," the CPP added.
The CPP vowed that the NPA would launch tactical offensives to bring to account the Duterte regime and its soldiers and police for thousands upon thousands of Oplan Tokhang killings, the successive killing of peasants, national minorities and youths, military occupation of civilian communities, aerial bombings and shelling, the near-genocidal war against the Maranaos of Marawi, arbitrary arrests and detention and so on.
The group has always insisted that negotiations between the government and the NDFP can proceed and make progress even while the civil war rages.