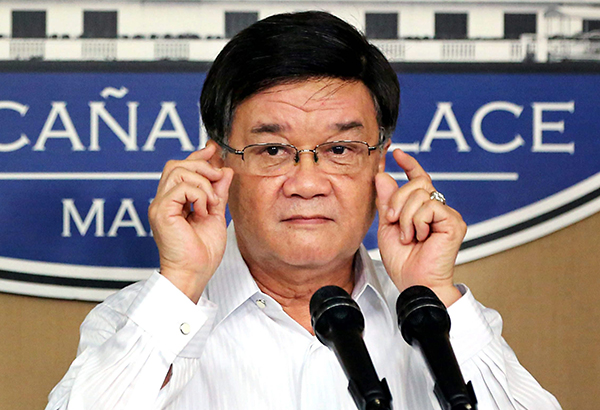 Justice Secretary Vitaliano Aguirre lamented that he was "targeted" and warned that what was done to him could be done to another person. On Monday, Sen. Risa Hontiveros noted that a screenshot of Aguirre's phone showed a text exchange with a certain "Cong. Jing" where the justice chief is said to be ordering the latter to hasten the case build-up against her. Hontiveros is part of the Senate Senate minority critical of the mounting deaths in the Duterte administration's drug war. King Rodriguez/PPD, File
'I was targeted': Aguirre cries intrusion of privacy after Hontiveros' statement
(philstar.com) - September 12, 2017 - 4:00pm
MANILA, Philippines (First published at 4:51 p.m. on Sept. 12) — Justice Secretary Vitaliano Aguirre II raised ethical questions against Senator Risa Hontiveros' statement calling him out on ordering a case build up against her.
In a statement released to the media on Tuesday, Aguirre fired back at Hontiveros: "Text messages are private communications. Any unauthorized intrusion into such exchanges is illegal and betrays the Constitution."
"I condemn to the highest degree this shameless violation of a citizen's right to the privacy of communication," Aguirre added.
Hontiveros, in a privilege speech on Monday afternoon, said that a member of the press "inadvertently captured a text message exchange on the screen of the phone of Aguirre."
She noted that zoomed in, the screenshot shows Aguirre exchanging texts with a certain "Cong. Jing" where the justice chief is said to be ordering the latter to hasten the case build-up against Hontiveros.
Aguirre, for his part, stressed that while he gave his utmost cooperation in the Senate probe into the killing of 19-year-old Kian Delos Santos as a resource speaker, he was "victimized."
He branded Hontiveros' statement as "unbecoming to a public servant."
He added: "That a public servant will conveniently resort to the protective mantle of a privilege speech makes it more despicable and diabolical."
Aguirre and Hontiveros have been trading barbed words when the senator took protective custody of the witnesses in the slay of Delos Santos. Both have asked each other to inhibit from the two separate probes lodged before both the Department of Justice and the Senate, on the slay case of Delos Santos.
READ: Hontiveros calls Aguirre's stay at DOJ 'a vulgar insult'
Media warned
The justice chief also hit the "supposed member of the media" who gave a copy of the photo to Hontiveros.
"The act of an unauthorized prying into an exchange of private text messages and the subsequent act of making it very public, also without authority, is a flagrant violation of the Republic Act No. 4200 or the Anti-Wire Tapping Act," Aguirre said.
A provision in the said act reads: "It shall be unlawful for any person, not being authorized by all the parties to any private communication or spoken word, to tap any wire or cable, or by using any other device or arrangement, to secretly overhear, intercept, or record such communication or spoken word by using a device commonly known as a dictaphone or dictagraph or detectaphone or walkie-talkie or tape recorder."
Hontiveros, in her privilege speech, only pointed out a photo of Aguirre who was seen texting someone during the probe.
Aguirre further accused that those who allegedly violated his right to privacy also disrespected the Committee on Public Order and Dangerous Drugs and the Senate as an institution.
'Who will be next?'
The justice chief lamented: "Let us call a spade a spade. I was targeted. It was never inadvertent."
"What is disturbing and scary is what has been done before can be done again. And when they do, they will always claim inadvertence, but their acts will always scream intentional," the justice chief said.
"We should be scared, If they can do it to me, they can do it to anybody even to the Senators themselves," Aguirre warned.
READ: Minority senators back call for Aguirre's resignation
He further called on the public to remain vigilant.
"If it could be done to me, it could be done to anybody. Everyone can be targeted. No one is safe. And that should really scare all of us."
Aguirre has earlier been accused of using government machinery to pin detained Sen. Leila De Lima on drug charges. De Lima, a staunch critic of President Rodrigo Duterte and Aguirre, has maintained her innocence on the accusations thrown at her. She is currently detained at the police headquarters in Quezon City.