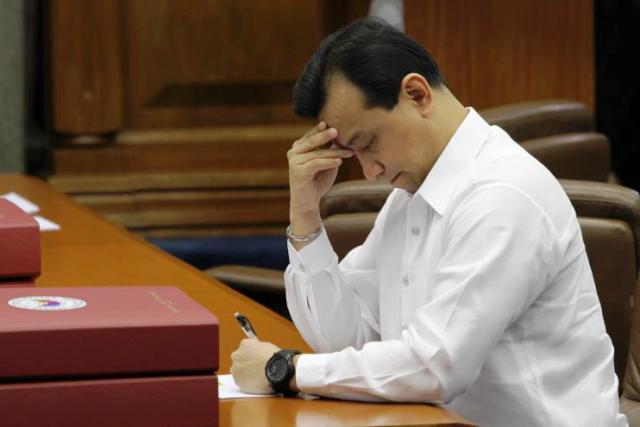 "The waiver of Trillanes is useless because offshore accounts are not covered by AMLA (Anti-Money Laundering Act) and therefore the AMLC (Anti-Money Laundering Council) cannot run after those," Aguirre pointed out in an interview. File
Palace downplays Trillanes bank waiver
Edu Punay
(The Philippine Star) - September 12, 2017 - 4:00pm
MANILA, Philippines — The waiver on bank secrecy signed by Sen. Antonio Trillanes IV for his bank accounts was futile and all for show, Justice Secretary Vitaliano Aguirre II said yesterday.
It cannot be used to disprove the allegation of hidden wealth against him, he stressed.
"The waiver of Trillanes is useless because offshore accounts are not covered by AMLA (Anti-Money Laundering Act) and therefore the AMLC (Anti-Money Laundering Council) cannot run after those," Aguirre pointed out in an interview.
Trillanes, one of the most vocal critics of the administration, signed a waiver on bank secrecy law and presented it to the media after President Duterte accused him of having bank accounts abroad containing his alleged hidden wealth.
Even given the waiver, Aguirre said, it would still be insufficient for AMLC to scrutinize the bank accounts, which reportedly have a co-depositor.
"It appears that he has a co-depositor. For the bank to honor his waiver, both depositors must sign a waiver," he pointed out.
Over the weekend, Duterte threatened to expose Trillanes' foreign bank assets after the senator implicated in smuggling his son, Davao City Vice Mayor Paolo Duterte, and son-in-law Manases Carpio.
The senator's supposed 12 bank accounts circulated on the internet through the page of broadcast journalist Erwin Tulfo, the blog of Assistant Secretary Mocha Uson and Davao Breaking News, a page allegedly maintained by a certain Ben Tesiorna.
In response, Trillanes issued the waiver and dared the President to do the same even when the latter is immune from criminal suit.
The DOJ is set to investigate anomalies in the Disbursement Acceleration Program (DAP) of the previous administration where the senator allegedly benefitted. An anti-pork barrel coalition also recently accused Trillanes of corruption involving multimillion-peso DAP funds.
The Coalition for Investigation and Prosecution led by former Manila councilor Greco Belgica and Volunteers Against Crime and Corruption founding chairman Dante Jimenez cited records from the Department of Budget and Management (DBM) that showed questionable expenditures from the opposition senator's DAP funds.
As submitted to the DOJ, it showed that Trillanes had received a total of P245 million in DAP funds in three tranches (P100 million, P50 million and P95 million).
The group's investigation showed that the senator donated P10 million from his DAP funds to a non-government organization that allegedly turned out to be a donor and not a recipient of donations.
"He had so many ghost projects that we discovered," Belgica alleged, adding that Trillanes used a "very unique scheme" to distribute DAP funds to smaller projects.
"These evidence against Sen. Trillanes are enough to pursue cases against him. But we want the DOJ to further investigate and validate and it would be up to them if they would pursue separate cases against him," he explained to reporters in the DOJ.
Jimenez, for his part, slammed Trillanes for claiming he was never involved in corruption.
"He said he is not corrupt, but this evidence shows he is," he alleged.
The coalition also asked the DOJ to conduct a fact-finding probe and pursue possible cases against the authors of DAP, particularly former president Benigno Aquino III and former budget secretary Florencio Abad.
Trillanes should be expelled
Sen. Richard Gordon said Trillanes does not deserve to remain in the Senate any longer because of his track record of insulting his colleagues and fomenting discord in the chamber.
He issued the statement a day after the Senate ethics committee found his complaint against Trillanes as "sufficient in form and substance" and directed the latter to respond to it.
"I don't think he belongs in the Senate. His behavior is really out of line," Gordon told ANC.
When asked if Trillanes should be expelled from the Senate, he said: "I think so. You don't call people names. You don't insult your teammates."
"There are rules. He doesn't know his rules. That's why we say, 'Will the gentleman yield to a few questions?' You don't address the guy – you address the chair. There are rules. He doesn't know his rules that's why he goes up to the deep end," Gordon said.
"When that happens, what do you have? A mob. You can't have a mob in the Senate. People are expected to act in a certain way," he added.
The two senators had a heated argument during the Aug. 31 hearing of the Senate Blue Ribbon committee into the smuggling of P6.4 billion worth of drugs from China in May. Trillanes accused members of the panel of "lawyering" for members of the President's family.
Gordon filed a 23-page ethics complaint against Trillanes last week, citing his "unparliamentary acts" that are tarnishing the Senate.
"The continuing, schematic and incorrigible abrasive conduct of Sen. Trillanes should be dealt with accordingly, maybe a censure is not even enough. He is devoid of proper bearing and demeanor and continuously exhibits unbridled immaturity," Gordon said in his complaint.
Trillanes, in turn, vowed to file a complaint against Gordon in the coming weeks.
Senate Majority Leader Vicente Sotto III, chairman of the ethics panel, vowed to act on the complaint expeditiously.
"Parliamentary immunity must not be used as a mode to ridicule, demean and destroy the reputation of the Senate and its members nor as avenue for personal wrath and disgust," Sotto said at the meeting of the committee on Monday.
"Parliamentary immunity is not an individual privilege according to the individual members of Congress for their own personal benefits but rather a privilege for the benefit of the people and the institution," he said.
He stressed the panel should not waver to act "when the words uttered constitute an act of utter disrespect and is offensive to a colleague and the Senate as an institution."
The committee, however, struck down one issue raised by Gordon – that of Trillanes' involvement in military uprisings against the government when he was still a Navy lieutenant. – With Paolo Romero