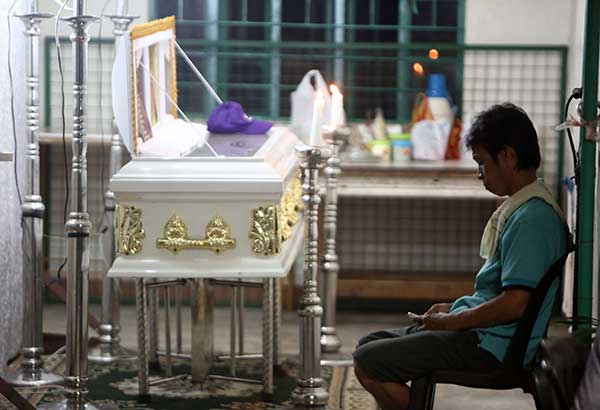 Reynaldo de Guzman's father Eduardo Gabriel has no doubt that it is his son Kulot whose remains they are grieving over in a barangay hall in Cainta, Rizal. Miguel De Guzman, File
'I'm the father, I know my son'
MANILA, Philippines — It is Kulot.
Reynaldo de Guzman's father Eduardo Gabriel has no doubt that it is his son Kulot whose remains they are grieving over in a barangay hall in Cainta, Rizal.
Gabriel indignantly made this clear to policemen who visited his son's wake yesterday to conduct another evaluation of the cadaver supposedly of the 14-year-old De Guzman, known as Kulot.
"Ito ang death certificate, ako ang tatay, kilala ko ang anak ko (Here is the death certificate. I am the father, I know my son)," Eddie shouted at the policemen belonging to the Criminal Investigation and Detection Group (CIDG).
The parents of Kulot insisted yesterday on burying what they believe are his remains despite the release by the Philippine National Police of DNA test results on the cadaver.
"Ako nagpalaki niyan. Anak ko yan kaya kinuha ko yan (I raised him. He's my child, that's why I claimed him from a funeral parlor in Gapan). Ibibigay ba sa amin ni mayor kung hindi ko anak yan (Would the mayor have allowed us to take the body if he were not my son)?" he later said in a television interview.
"Wala kayong karapatan kuhain 'to dahil unang-una wala kaming pinirimahan (you have no right to take it away, because in the first place we didn't sign anything)," he said. "Patay na, lalo niyo pang pinahihirapan (he's dead, and still you're still making him suffer)."
Tests showed DNA samples from the cadaver did not match those taken from Kulot's parents.
The body that was believed to be Kulot's was fished out of a creek in Gapan, Nueva Ecija. Kulot went missing on the night of Aug. 17 along with neighborhood friend 19-year-old Carl Angelo Arnaiz after they went out to buy snacks.
Eddie and his partner Lina Sta, Ana plan to bury Kulot today.
They did not allow the CIDG to reexamine the body of their son.
The CIDG team who showed up at the wake tried to ease tension by assuring Kulot's family they were merely trying to inform them about the result of the DNA test.
PNP spokesman Chief Supt. Dionardo Carlos maintained they would still look for the real Kulot and investigate who killed the boy whose body was found floating in Kinamatayang Kabayo creek in Gapan. – With Cecille Suerte Felipe