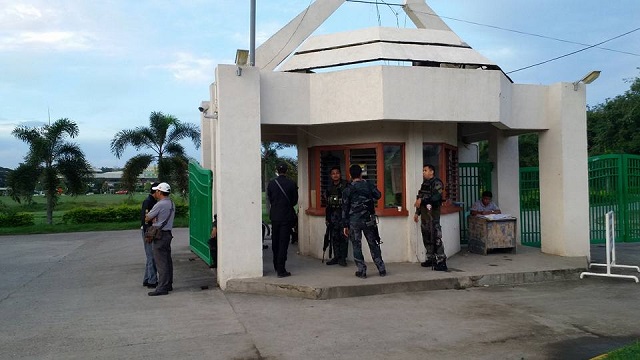 Police guard the entrance to the provincial capitol in Kidapawan City. Courtesy of Abner Francisco/Facebook, file
Ex-North Cotabato solon charged anew over 'pork' scam
MANILA, Philippines — The Office of the Ombudsman has filed a third batch of criminal cases against dismissed North Cotabato Vice Governor Gregorio Ipong in connection with the alleged misuse of his Priority Development Assistance Fund (PDAF) or pork barrel during his term as a congressman in 2007.
In four separate case information sheets filed before the Sandiganbayan, the ombudsman charged Ipong with two counts of violation of Republic Act 3019 or the Anti-Graft and Corrupt Practices Act, one count of malversation of public funds under the Revised Penal Code (RPC) and one count of the complex crime of malversation of public funds through falsification of public documents also under the RPC.
The cases were filed on August 11 but copies of which were released to the media only yesterday.
Charged with Ipong were three former officials of the Department of Social Welfare and Development (DSWD) including its then secretary Esperanza Cabral, undersecretary Mateo Montaño and chief accountant Leonila Hayahay.
Also included as respondent was Roberto Solon of the non-government organization Economic and Social Cooperation for Local Development Foundation, Inc. (ECOSOC).
The cases stemmed from the alleged anomalous use of Ipong's P9.4-million PDAF in March 2007 during his term as Second District Representative of North Cotabato.
Graft investigation and prosecution officer Christian Uy said Ipong unilaterally chose and endorsed ECOSOC to be his partner in the implementation of his livelihood and medical assistance projects under the DSWD's Comprehensive Integrated Delivery of Social Service (KALAHI-CIDSS).
The ombudsman said the projects were awarded to Ecosoc without the benefit of a public a bidding required under Republic Act 9184 or the Government Procurement Reform Act and despite the foundation's lack of accreditation and qualifications to carry out the projects.
The ombudsman's field investigation also supposedlly revealed that non of the projects was implemented. Instead, the ECOSOC allegedly submitted falsified official receipts, delivery reports, disbursement reports, project proposals and other liquidation documents "to conceal the fictitious nature of the transactions".
The ombudsman said Cabral and the two other then DSWD officials must be held liable with Ipong for approving the released the lawmaker's fund to ECOSOC "without carefully examining and verifying" its accreditation, qualifications and the supporting documents it submitted.
The ombudsman recommended to the Sandiganbayan to set the respondents' bail bond at P140,000 each.
Previous sets of charges
The ombudsman earlier charged Ipong with graft and malversation cases over the alleged misuse of P9.6 million of his PDAF in April 2007 and P4.9 million in May 2007.
The PDAF funds were supposedly allocated to another questionable NGO, Aaron Foundation Philippines Inc. (AFPI) without public bidding.
The supposed livelihood projects were also not implemented.
It was in November 2016 when Ipong stepped down from office after receiving the dismissal order from the ombudsman for administrative offenses of grave misconduct and conduct prejudicial to the best interest of the service still in connection with the alleged misuse of his PDAF in 2007.