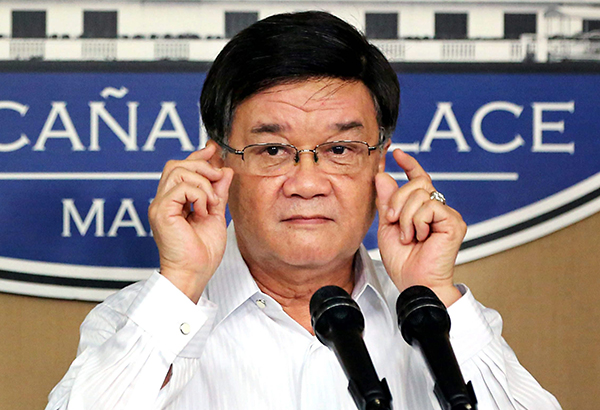 Aguirre has threatened to file cases against Hontiveros, as well as the photographer who took the picture of his mobile phone and whoever was responsible for releasing the photograph. File
'Hontiveros can't be charged over Aguirre's text messages'
Marvin Sy
(The Philippine Star) - September 13, 2017 - 4:00pm
MANILA, Philippines — Senate Minority Leader Franklin Drilon said yesterday that Sen. Risa Hontiveros cannot be charged for any crime when she came out with the text message seen on the phone of Justice Secretary Vitaliano Aguirre II recently.
Aguirre has threatened to file cases against Hontiveros, as well as the photographer who took the picture of his mobile phone and whoever was responsible for releasing the photograph.
He said that the text message on his phone was private communication and so what was done by Hontiveros was a flagrant violation of the Anti-Wiretapping Act and a violation of his right to privacy.
Drilon said that Hontiveros violated neither of the two when she delivered her privilege speech last Monday about the text message on Aguirre's phone.
Aside from the fact that Hontiveros' speech is covered by parliamentary immunity, Drilon said "there was no interference or wiretapping as contemplated under RA 4200 or the Anti-Wiretapping Law."
"It is clear from the records of plenary debates on the Anti-Wiretapping Law that the sponsor and the legislators intended to punish the interference or recording of private conversations, which tend to be dragnet in character as to amount to surveillance. Since the photo was inadvertently taken, it cannot be considered as surveillance," Drilon said.
While there is an effort to include still pictures or screen shots in the scope of the Anti-Wiretapping Law, Drilon said that until such amendment is passed by Congress, the act of taking screen shots or still pictures is not considered wiretapping.
With regard to the violation of Aguirre's right to privacy, Drilon said this does not apply to this particular case because there is no reasonable expectation of privacy.
"When there is no clear effort to limit visibility of the messages in a public space, then there is no reasonable expectation of privacy," explained Drilon, noting that the Senate session hall is a public space where photographers are a regular fixture.
In a statement, Hontiveros said that Aguirre has practically confirmed the authenticity of the text message that was photographed on his phone when he came out with long statements and convoluted legal arguments about it.
"Why is the justice secretary invoking the Anti-Wiretapping Law? Is he admitting that the text conversation is real?" Hontiveros said.
"The justice secretary accuses me of indecency and being unethical. There is nothing more indecent and unethical than being caught red-handed plotting against a senator during a Senate hearing inside the Senate," she added.
Hontiveros said that it was ironic that Aguirre is suddenly the protector of the right to privacy when he previously disregarded this when he made public the personal life of Sen. Leila de Lima and even threatened to show her fake sex videos.