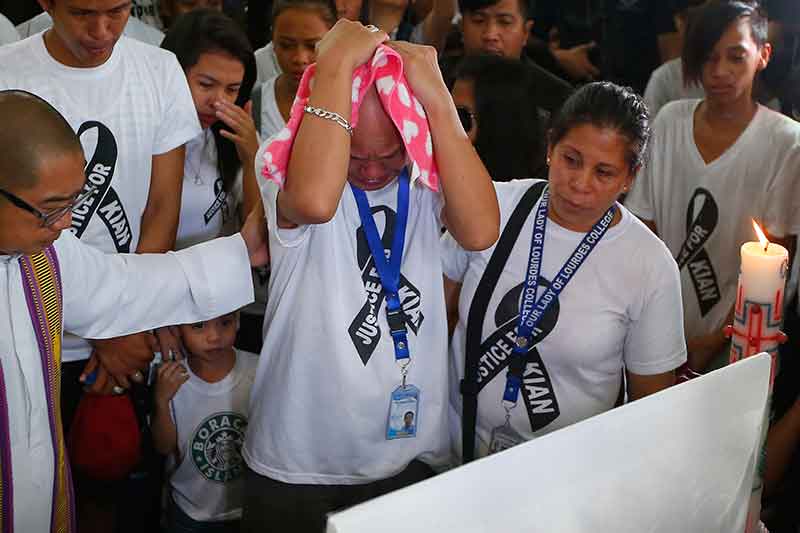 Saldy delos Santos, center, and his wife Lorenza, second right, grieve over the coffin of their son Kian Loyd delos Santos, a 17-year-old student, who was killed in an alleged anti-drug crackdown during his funeral, Saturday, Aug. 26, 2017, in suburban Caloocan city, north of Manila, Philippines. AP/Bullit Marquez, file
DOJ starts probe of Caloocan cops in Kian slay
(philstar.com) - September 14, 2017 - 5:25am
MANILA, Philippines – The Department of Justice has started the ball rolling on the slay and torture case of 19-year-old Kian Loyd Delos Santos.
The three-member panel led by Senior Assistant State Prosecutor Tofel Austria started the preliminary investigation on the murder and torture raps filed by the National Bureau of Investigation and Delos Santos' parents, Saldy and Lorenza.
Kian's parents were accompanied by Public Attorney's Office Chief Persida Rueda-Acosta when they arrived at the DOJ Thursday morning. With them were the witnesses, some of whom were minors. Those witnesses were accompanied by their parents.
During the hearing, Oliver Yuan, counsel for police respondents, pointed out to the panel of prosecutors that his clients have yet to receive a copy of the complaint. "We only received a subpoena, no complaint affidavit, although there was result of (NBI) investigation," Yuan said, arguing that they cannot draft a counter-affidavit without a copy of the complaint.
A short debate ensued among Austria, Yuan and Acosta, but state prosecutor Austria stressed: "Under our rules, the endorsement from other government offices, like one that is endorsed from us, we recognize this as affidavit."
Yuan represents respondents Police Chief Inspector Amor Cerillo, Police Officer 3 (PO3) Arnel Oares, PO1 Jeremias Tolete Pereda, and PO1 Jerwin Roque Cruz. The four cops are facing murder, violation of domicile under the Revised Penal Code (RPC) or torture, and planting of evidence under Section 29 of the Comprehensive Dangerous Drugs Act of 2002.
The Delos Santos couple were first to file their complaint, through the assistance of PAO on August 25. The NBI filed the same raps against the cops on August 31.
Noting the panel's response, Yuan then asked for additional time to submit their counter-affidavit, and was given until Sept. 25 to file.
Eyewitnesses to the probe were also summoned before the panel of prosecutors to subscribe to their affidavit.
Acosta also noted that the PAO's forensic expert was also present in the hearing. She said that the expert "submitted the findings of panel, consisting of three doctors, during the post mortem analysis of gunshot wounds of Delos Santos."
Delos Santos was slain on the night of August 16 during a "One Time, Big Time" operation of the Caloocan City police. The teenager's killing, apparently done execution style, sparked public outrage, prompting even vocal supporters of the government's bloody war against drugs to voice their criticism.
The NBI branded the operation as a rub out, stressing in its complaint that: "From the collective acts of herein Police Officers, prior, during and after the incident, it is very evident that they have one single purpose, that is to kill Victim."
The probe on Delos Santos' slay will resume on at 2:30 p.m. on September 25.