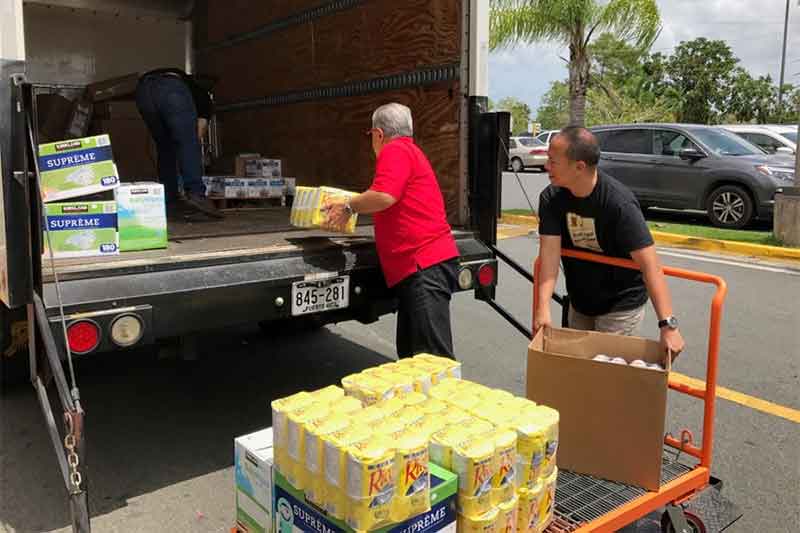 A response team from the Philippine Embassy in Washington gathers emergency supplies for Filipinos on US Virgin Islands. DFA/Released
Relief sent to Filipinos in hurricane-struck Caribbean
(philstar.com) - September 14, 2017 - 9:58am
MANILA, Philippines — A response team from the Philippine Embassy in Washington was deployed to deliver emergency supplies to Filipinos on hurricane-struck US Virgin Islands.
According to Embassy Chargé d'Affaires Patrick Chuasoto, the team will distribute bottled water, rice and non-perishable food, medicines and antibacterial solution and portable energy sources to the US Virgin Islands.
An estimated 271 Filipino nationals are residing in the US Virgin Islands, according to the embassy's official records. The response team is expected to arrive on the island on September 14.
A separate response team was also sent to the British Virgin Islands to distribute vouchers to Filipinos for them to procure necessities.
About 160 Filipinos in the British Virgin Islands, Anguilla and Saint Martin have sought repatriation from the Philippine government.
The government is eyeing to start the repatriation by Monday, Department of Foreign Affairs spokesperson Robespierre Bolivar said.
READ: Philippines fast tracks repatriation of Irma victims in Caribbean
According to the DFA, the Office of the Undersecretary for Migrant Workers Affairs, the Philippine Embassy in Washington, D.C., USA, Philippine Embassy in The Hague, Netherlands, Philippine Overseas Labor and Welfare Office-DC and the response teams are continuously working to provide aid and facilitate the repatriation of Filipinos from the Caribbean Islands.
"The Philippine Embassy in Washington, D.C. continues to monitor the situation in Turks and Caicos Islands, and the US southeastern states of Florida, Georgia, Alabama, Tennessee, and South Carolina, which were affected by Irma in the past few days," the DFA said.
For those who want to share or find information regarding their friends or families in the affected areas, the Philippine Embassy in Washington can be contacted through:
Emergency hotline: +1 (202) 368 2767
Email addresses:consular@phembassy-us.org / atn@phembassy-us.org
Facebook:facebook.com/philippinesusa
Twitter:@philippinesusa
— Patricia Lourdes Viray