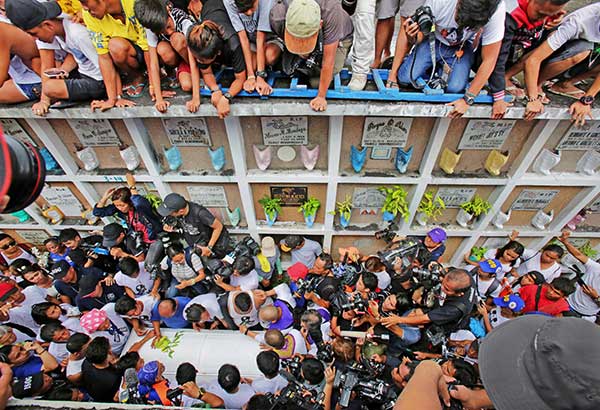 "Whatever the reason may be, one death is still too many. The recent killing of Kian delos Santos, 17; Carl Angelo Arnaiz, 19; Reynaldo de Guzman, 14; Raymart Siapo, 19; and Grace Omadlao, 16, raises serious concerns on the quality of protection that the government extends to our children," the CHR said. ERNIE PEÑAREDONDO, File
CHR unfazed, hits killing of teens
Janvic Mateo
(The Philippine Star) - September 15, 2017 - 4:00pm
MANILA, Philippines — Despite the threat of the House of Representatives to cut its budget to P1,000, the Commission on Human Rights (CHR) has not backed down on its criticisms against the Duterte administration's bloody campaign against illegal drugs.
The CHR yesterday issued a statement expressing alarm over the rising number of young people killed by police and other lawless elements.
"Whatever the reason may be, one death is still too many. The recent killing of Kian delos Santos, 17; Carl Angelo Arnaiz, 19; Reynaldo de Guzman, 14; Raymart Siapo, 19; and Grace Omadlao, 16, raises serious concerns on the quality of protection that the government extends to our children," the CHR said.
"The commission stands that the rights of our children – even the accused and adjudged for crimes, but most especially the innocent – must be consistently upheld and protected. Rights should never be sacrificed in the drive against criminality and should never be shrugged off when convenient," it added.
Both Delos Santos and Arnaiz died after they allegedly fought back against elements of the Caloocan police last month. However, witnesses and autopsy results show that the two were victims of summary execution.
De Guzman, who went missing with Arnaiz, was found dead in Nueva Ecija with at least 26 stab wounds earlier this month. Police claimed that a DNA test showed that the body was not the missing boy, although his parents claimed otherwise.
Last March, Siapo – who was born with club feet – was killed after he was kidnapped in their neighborhood in Navotas. Witnesses claimed he was told to run before he was killed.
Omadlao was found dead in Pasig earlier this month. Examination results showed she was raped before she was killed.
In its statement, the CHR said the government should ensure the protection of children as it is its obligation under the United Nations Convention on the Rights of the Child.
"Our children deserve better treatment. They ought to be given food and nourishment, not bullets in their bodies; they should be resting on clean, safe shelters, not lying cold in the streets; they need care and protection, not a life of violence," said the human rights body.
"It is only through our collective, genuine commitment that we can ensure the welfare of our future generation. Together with all those vulnerable and voiceless, it is high-time for us to stand up for their right," it added.
For those who are in conflict with the law, the CHR noted that the juvenile justice law has mechanisms to ensure that the children are rehabilitated and provided with restorative justice.
"Death is never an appropriate response," it added.
The CHR issued the statement days after the House trimmed down its budget to P1,000 for supposedly being critical of the Duterte administration.
In response, the CHR leadership said it will not turn its back on its constitutional duty to monitor human rights violations in the country.