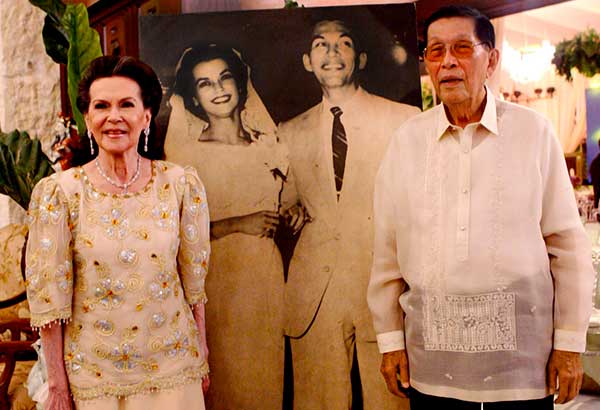 Juan Ponce Enrile and his wife Cristina pose beside a photo of themselves as newlyweds at their 60th wedding anniversary celebration last night. BERNARDO BATUIGAS
JPE: Rody has bigger problems than Marcos
(The Philippine Star) - September 17, 2017 - 4:00pm
MANILA, Philippines — The architect of the original martial law during the Marcos dictatorship thinks President Duterte has heavier problems than Ferdinand Marcos.
"Duterte might declare martial law because he has bigger problems now than Marcos. He has the communist insurgency, ISIS, a big drug problem, a vociferous opposition and the traditional problem of Mindanao," former Senate president Juan Ponce Enrile said.
Enrile, possibly the country's toughest political survivor, celebrated his 60th wedding anniversary last night with his wife Cristina Castañer at the private chapel in their Dasmariñas Village compound with family, friends and political allies including Imelda Marcos.
Cristina has had a front-row seat these past 60 years as her better half served in various capacities under seven presidencies.
Asked whether he would support Duterte if the president declares martial law, Enrile said: "Whether I support him or not, we will be under martial law if he declares it. What can I do? I will not oppose him. How can I, I'm no longer in politics? If they can't find a different methodology to control the situation, he might declare martial law."
He said he agreed with the President's decision to declare Sept. 21 a holiday so people can "do their rallies," but warned they should not destroy or hurt people or vandalize.
"The police are an instrument of the state; if they violate their sworn duty and go out of line, they have to be brought to court. And that's exactly what's going on," Enrile said.
On Marawi, he said the government would be lucky if it could solve the problem in one year.
"ISIS is a worldwide problem, that's why I said the President has bigger problems than we encountered because back then (during Marcos' time) the constabulary, which is now the PNP, and the military were consolidated under one department, which was under me," Enrile, who was defense minister for 17 years, said.
"Our problems were the MNLF, CPP-NPA, that's it. We didn't have ISIS, we didn't have the drug problem," he added.
He also warned that "some people" wanted to bring to the Philippines "the North Korean ideology."
When pressed who "they" is, he said: "The Marxists in this country, the CPP-NPA. Whoever holds the guns rules."
"In a way you should be thankful that Duterte came because he's now working to solve the drug problem, the criminality of the police or tulisan, ISIS and all these. At the age of 72! Would you rather live under a system like North Korea? That is the prototype of the system that some people want to install in this country," Enrile said.
Looking back
In the presence of his wife Cristina, Enrile talked about how he won over the Spanish girl he met 62 years ago.
He was 31, she was 18. Two years later, armed with a Harvard masters of law degree, he married the Spanish colegiala he met at a party in Grace Park, Caloocan.
"He was mayabang (boastful)," Cristina Enrile said of their first meeting.
The couple has two children, Jack and Katrina, eight grandchildren and four great-grandchildren.
"It was my dad who wanted to celebrate their 60th because they didn't have a party on their 50th," their daughter Katrina said.
Of their early years, the 93-year-old senator said: "I was living in Malabon, she was living in Pasay and her mother was very strict. But like Frederick the Great, I conquer when I have to conquer."
Cristina was raised in a strict Catholic family, while he described himself as "a promdi, hindi nagsisimba (from the province, does not go to Church)," and they had very different upbringing.
"At 33, I was like Christ crucified into marriage," he quipped.
"I'm a homebody and I had my children," she said, whose eldest child Jack was born a year after they got married.
"And now I have grandchildren and great-grandchildren, they give me happiness," she said.
Their secret
"The secret is that we're always together, we eat dinner together every night," Cristina said, adding that she cooks everything for him except the Ilocano specialty pinakbet, which he does himself.
While Enrile's past affairs are a matter of public knowledge, and alleged long-time girlfriend Gigi Reyes is in jail for her role in the pork barrel scam, he said "that's all in the past."
His wife said he has never said sorry in their 60 years of marriage but that she "would swat him with a fly swatter" about his girlfriends.
"I don't think there's any family in this country where the husband and wife have no quarrel," he said. "When she gets irritated, I just keep quiet."
Cristina has played the role of a political wife for the past 60 years, starting when he was a lawyer in private practice to when he was justice and defense minister under Marcos, and through his years as senator and his hospital arrest. She also served briefly as Philippine ambassador to the Holy See.
In their earlier years, she would shop for the household in Divisoria with a P300 budget a month, which was sufficient at the time, when they were living in Philamlife, Quezon City.
In the 1970s, they transferred to Dasmariñas Village in Makati, where Enrile had his own house built apart from the family home to house his books and for him to work.
"We were never separated," he said.
When asked when and over what she did that made her almost give up on him, Cristina replied: "Never. Our marriage has been very good."