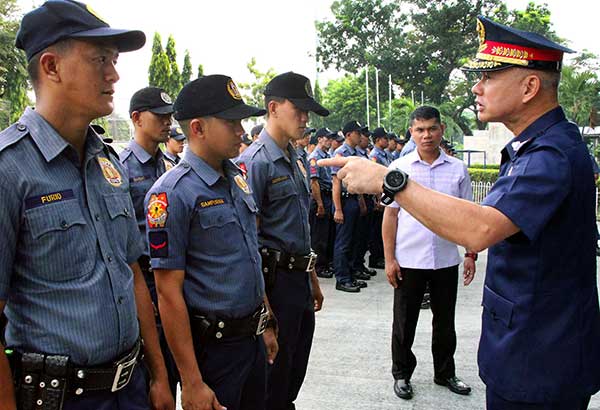 NCRPO chief Director Oscar Albayalde said the technical working group and directorial staff would determine where to get all the replacements, although he hinted that this would be easy because Metro Manila has enough policemen. EDD GUMBAN/File
NCRPO to find replacements for Caloocan cops today
Non Alquitran
(The Philippine Star) - September 17, 2017 - 4:00pm
MANILA, Philippines — Officials of the National Capital Region Police Office (NCRPO) will meet today to tackle the replacements of all 3,500 Caloocan City policemen relieved last week.
NCRPO chief Director Oscar Albayalde said the technical working group and directorial staff would determine where to get all the replacements, although he hinted that this would be easy because Metro Manila has enough policemen.
The group, headed by NCRPO deputy for administration Chief Superintendent Rolando Nana, would also do a background check on the replacements to ensure that the recent illegal activities attributed to the Caloocan police will not be repeated.
Of the 1,200 relieved policemen – which comprise the first batch of all 3,500 officers – only 197 have so far been reassigned to the Regional Police Holding and Accounting Unit (RPHAU).
Albayalde ordered the relief of the entire city police force after several policemen were tagged in the killings of Kian Loyd delos Santos and Carl Angelo Arnaiz, disappearance of Reynaldo de Guzman, and robbery at the house of a 51-year-old woman in Barangay 188, Tala district.
As caught on CCTV, it appeared that 13 policemen barged into the house without a search warrant and reportedly stole money and other valuables. They also allegedly used a minor when they made the raid.
President Duterte agreed to the relief of the entire police force. Relieved officers will go through retraining.
"The decision on where to get the replacements of the relieved Caloocan policemen would be done by the TWG tomorrow. It would be a very easy process as we have so many policemen in Metro Manila," Albayalde said.
Earlier, he said they would accept volunteers from other police regional offices but, as of yesterday, there were no takers.
"Not a single policeman answered our call for volunteers to be assigned in Caloocan City so I've created the TWG to speed up the process. We need the replacements the soonest possible time so the reassignment of the relieved policemen would speed up and go unhampered," Albayalde added.
Batches of relieved policemen would go through 45 days of reorientation and values formation at the NCRPO headquarters in Camp Bagong Diwa in Bicutan City.
Many of them would be assigned to secure the Association of Southeast Asian Nations (ASEAN) meeting the Philippines is hosting in November or deployed during protest rallies, like the one being scheduled on Sept. 21 at the Quirino Grandstand in Rizal Park, Manila.
He clarified though that those charged in the killing of Delos Santos and Arnaiz would be exempted from these duties.
Meanwhile, Rep. Lito Atienza of party-list Buhay said the Departments of Justice and Social Welfare and Development should also charge the 13 policemen involved in the Tala raid for violating the anti-child abuse law.
"We cannot have our very own officers of the law exploit children. (It is) just like the Akyat Bahay gangs using kids to break into homes or drug pushers taking advantage of minors as movers," Atienza added.
According to the former Manila mayor, the minor whom the Caloocan policemen brought was caught stealing valuables during the unlawful police search. – With Delon Porcalla