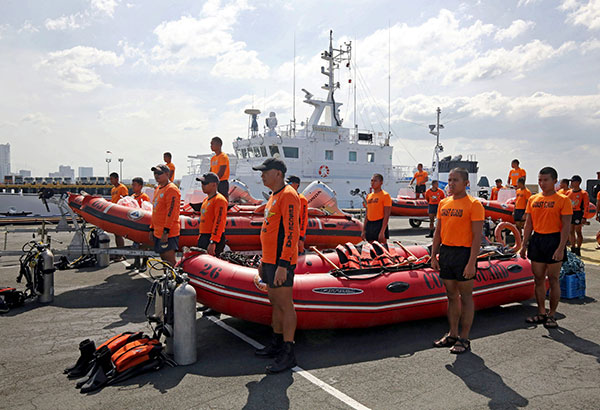 The Duterte administration, through its allies in the House of Representatives, has given the Philippine Coast Guard (PCG) a P6.7-billion budget for 2018 to enhance its capability in protecting the West Philippine Sea. KRIZJOHN ROSALES/File
House gives PCG additional budget to guard WPS
MANILA, Philippines — The Duterte administration, through its allies in the House of Representatives, has given the Philippine Coast Guard (PCG) a P6.7-billion budget for 2018 to enhance its capability in protecting the West Philippine Sea.
Surigao del Sur Rep. Johnny Pimentel, chairman of the House committee on good government and public accountability, said the national government has set aside the amount to build up the PCG with a fleet of brand new patrol boats, a helicopter and other weapons.
"The fresh funding will help pay for the acquisition of 10 newly built 44-meter patrol boats from Japan, of which five have already been delivered to the PCG," the administration lawmaker, who is also a member of the House appropriations committee, said.
The PCG is also acquiring four 24-meter fast boats for delivery in 12 months; an 82-meter boat for delivery in 2019; and two 94-meter, high-endurance boats for delivery in 2020 and 2021.
"The 94-meter boats in particular can operate continuously for 15 days, so they can help reinforce existing Philippine Navy and PCG vessels that are now guarding our exclusive economic zone in the West Philippine Sea," Pimentel said.
The Mindanao lawmaker likewise disclosed that the PCG is spending P922 million for firearms, P686 million for a helicopter meant for deployment aboard a boat and P682 million for smaller watercraft.
"These new assets will go a long way in enabling the PCG to perform its mission to enforce our maritime laws, conduct sea disaster search and rescue when needed and protect our marine environment," Pimentel added.
Of the P6.7-billion in new appropriations, P3.1 billion is lodged in the budget of the PCG itself, while P3.6 billion is in the allocation of its mother agency, the Department of Transportation.
He said 4,000 new positions for PCG uniformed personnel have been also authorized in view of the upcoming new vessels.
"We've increased from 8,930 this year to 12,930 in 2018 the authorized positions for uniformed PCG personnel," he said.
At present, the PCG has filled 8,792 of the 8,930 authorized positions for uniformed personnel. The PCG also has 506 positions for civilian employees, of which 352 are filled.
Pimentel said the PCG is also procuring high-performance rigid inflatable boats (RIBs), ranging from seven to 15 meters, which can be used to deploy troops from bigger patrol vessels or shores, and can also serve as lifeboats.
"These high-speed RIBs will be helpful in vessel interdiction and non-compliant boarding team operations. They can also help fight off terrorists as well as drug smugglers aboard motorized boats," Pimentel said.
In April this year, in an attempt to kidnap foreign tourists, at least 11 members of the Abu Sayyaf terrorist group sailed on board three motorized boats all the way to Inabanga, Bohol from Indanan, Sulu.
The raiders were beaten by local military and police units with the help of alert Inabanga residents. Of the 11 attackers, 10 were killed while was one captured and later slain after he attempted to escape.
With respect to drug trafficking, the bulk of the Philippines' supply of shabu is smuggled in by ships from mainland China, Hong Kong and Taiwan.
The ships take advantage of the Philippines' vast and poorly patrolled coastline to offload the drugs into smaller boats that deliver the supply to local traffickers.
Pimentel said the country has at least three "hotspots" that require intensive coastal patrol operations – the West Philippine Sea, Northern Luzon and Sulu Sea.