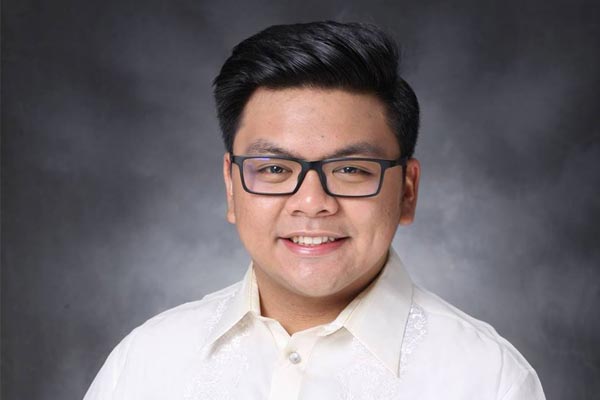 UST Law freshman Horacio Tomas Castillo III, believed to be a victim of fraternity hazing rites, was dumped on a sidewalk in Balut, Tondo. He informed his parents he would attend the "welcome ceremony" of the fraternity Aegis Juris but did not come home the day after. His body was bloated and had candle and cigarette marks and bruising. Photo from Horacio Tomas Castillo III's Facebook
'We'll leave no stones unturned': UST condemns student death in alleged hazing
(philstar.com) - September 18, 2017 - 6:34am
MANILA, Philippines — The University of Santo Tomas on Monday condemned the death of a freshman law student allegedly linked to fraternity hazing rites.
Horacio Tomas Castillo III, 22, was found on a sidewalk in Balut, Tondo Sunday morning. He was brought to the Chinese General Hospital where he was declared dead on arrival.
"We condemn in no uncertain terms hazing in any form or manner. Violence has no place in an academic institution, particularly in our University that values and promotes charity and compassion," UST said in a statement.
"We will leave no stones unturned to ensure that the perpetrators be meted the appropriate sanctions and brought to justice," it added.
READ: UST law freshman dies in alleged frat hazing
The student's father, Horacio Tomas Castillo Jr, said his son informed him that he would attend the "welcome ceremony" of the fraternity Aegis Juris, where he said he was a new member.
According to his father, Castillo's body was bloated and had candle and cigarette marks and bruising.
"He went through extreme pain and suffering," the father said in an interview with dzMM.
"No words can describe our sadness for this unfortunate incident. We express our profound sympathy and offer our prayers to his family for their pain and anguish—a pain that we share seeing that the life of our very own student, with all of its aspirations and potentials, taken away because of a senseless act," UST Civil Law Faculty said.
Castillo graduated with a degree on Political Science at the UST Faculty of Arts and Letters.
Student councils condemn death
The UST Central Student Council called on the school administration to act on the matter.
"We call on the university administration and the students to condemn this violent act against a fellow Thomasian," UST CSC said in a statement. "The UST CSC demand for a rigorous investigation on the people and the fraternity involved in the death of Horacio Tomas Castillo III. May he get the justice he deserves."
UST said investigations will be conducted immediately to find out the truth and institute the necessary legal actions.
All officers and members of the Aegis Juris Fraternity have been placed on preventive suspension. Members of the fraternity are not allowed to enter the campus or the Faculty of Civil Law or attend classes.
The UST Civil Law Student Council (CLSC) President Jonathan Santos earlier denounced the death of his fellow law student.
"Whatever the cause of and whoever caused his death shall be accountable," UST CLSC Jonathan Santos told Philstar.com in an online exchange.
He added: "All we can say for now is that the fraternities and sororities are strictly prohibited by our [Student Welfare and Development Board] in recruiting UST Law freshmen unless recognized by the OSA."
CLSC will hold a prayer vigil for Castillo at the Civil Law lobby at 6 p.m. on Monday.
Founded in 1979, the Aegis Juris carries the motto: "Do no injustice. Suffer no injustice."
UST Civil Law Dean Nilo Divina is an alumnus of Aegis Juris.
Impunity in schools
Under the Anti-Hazing Law, school authorities must be informed in writing of hazing or initiation rites seven days before the activity.
"The written notice shall indicate the period of the initiation activities which shall not exceed three days, shall include the names of those to be subjected to such activities, and shall further contain an undertaking that no physical violence be employed by anybody during such initiation rites," Republic Act No. 8049 reads.
Under the same law, "if the person subjected to hazing or other forms of initiation rites suffers any physical injury or dies as a result thereof, the officers and members of the fraternity, sorority or organization who actually participated in the infliction of physical harm shall be liable as principals."
Aegis Juris, in a statement, said the "fraternity will extend its utmost cooperation in the investigation of this unfortunate incident."
Members of Aegis Juris were also involved in a brawl inside the university last year with the Gamma Delta Epsilon Fraternity.
Castillo's death is not the first from hazing, against which a law was passed in 1995.
In 2015, Anthony Javier, a student at the Western Mindanao State University in Zamboanga City died after hazing by the Tau Gamma Phi WMSU-chapter. The year before, De La Salle-College of Saint Benilde student Guillo Cesar Servando was also killed in hazing rites of a chapter of the same fraternity.
In 2013, John Mark Dugan, a 19-year-old sophomore marine cadet at the Maritime Academy of Asia and the Pacific died of hazing. Two San Beda law students—Marc Andre Marcos and Marvin Reglos—were killed in hazing by different fraternities in 2012.