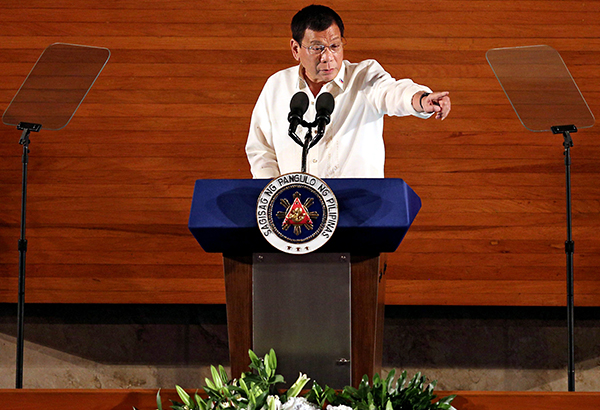 President Duterte Duterte said he is willing to provide UNHRC an office in case the human rights body accepts his invitation. Krizjohn Rosales, File
Duterte invites UN rights body to build satellite office in Philippines
(philstar.com) - September 18, 2017 - 1:20pm
MANILA, Philippines — As the Commission on Human Rights faces the prospect of a miniscule budget, President Rodrigo Duterte Monday invited the United Nations Human Rights Council (UNHRC) to set up a satellite office in the Philippines so it could monitor the anti-drug raids of the police.
Duterte, whose bloody war on illegal drugs has earned criticisms here and abroad, said he would allow representatives of the UNHRC and the media to witness police operations for the sake of transparency.
"I will personally through an official channel, invite the Human Rights Commission of the United Nations to set up a satellite office here," he told reporters in Caloocan after
visiting the wake of PO3 Junior Hilario
, a policeman killed in an anti-drug operation.
"Every operation, I will tell the station commanders, to the police, 'Do not operate without the Human Rights Commission ng United Nations.' And everybody must wear a camera," he added.
Duterte said he is willing to provide UNHRC an office in case the human rights body accepts his invitation.
Asked if he prefers the UNHRC to watch over the drug-related killings to the CHR, the president said: "Oh yeah, kasi wala naman pera (they have no money)."
"That's why I am asking for the money so I can buy equipment that the police lacks," he added.
The House of Representatives, which is dominated by Duterte's allies has given the CHR a measly P1,000 budget for next year, citing the constitutional body's alleged failure to protect the human rights of crime victims.
The CHR, which has repeatedly condemned the killings linked to Duterte's war on drugs, has insisted that it is not mandated to handle crimes committed by private individuals, a function that belongs to the police.
Some groups have criticized the House for giving CHR a P1,000 budget, calling it an effort to silence the critics of the administration. Senators have warned of a possible deadlock in the passage of the P3.7-trillion national budget for 2018 if the House insists on allotting only P1,000 to the commission.
The executive department originally allotted P678 million for next year's CHR budget, lower than the P749 million outlay for this year.
Pressed if he supports calls to restore the CHR budget, the president said: "No, the House of Representatives said they are against it. They allotted P1,000. I will tell them, just give that to the police because I will use it to buy cameras."
"I will buy cameras so everything is transparent," he added. — Alexis Romero