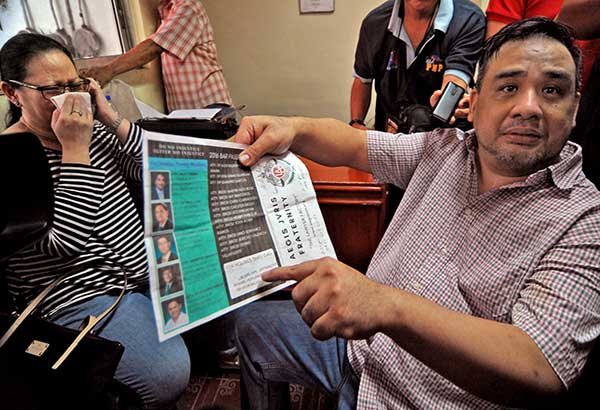 Carmina and Horacio Tomas Castillo Jr. weep at a funeral parlor where the body of their son, Horacio Tomas III, was taken yesterday. EDD GUMBAN
'Oh my God, they killed my son'
(The Philippine Star) - September 18, 2017 - 4:00pm
MANILA, Philippines — Their son's death at the hands of people who claimed to abhor violence and whom he called "brod" was too much for the parents of law student Horacio Tomas Castillo III.
Castillo's father and namesake said it was painful for him to imagine the final moments of his son as he was being tormented by his "brothers" in the Aegis Juris fraternity of the University of Santo Tomas Faculty of Civil Law.
Told that his son died of cardiac arrest resulting from hazing, the elder Horacio cried out, "My God! Pinatay nila ang anak ko (They killed my son)!"
Horacio's mother Carmina was inconsolable. "How could they do this to my son? They're heartless, they didn't even take him to a hospital. Just tell me what they did to my son," Carmina, in tears, said.
She urged the fraternity to present the killers to her. "I want them to narrate to me how they did it, how my son suffered. I want to see their faces… especially the one who brought my son to the sidewalk."
She said Horacio or Atio had wanted to be a lawyer or a senator.
The lifeless body of the 22-year-old freshman law student was found dumped on a sidewalk in Tondo Sunday morning, a day after he left home supposedly to attend a welcoming ceremony for him and other new members of Aegis Juris at the university. His body had contusions mostly in the upper arms as well as some candle burn marks.
"My son never wanted to join a fraternity, but after a lot of convincing, he was enticed to join because he was promised there would be no hazing. There was initiation, of course, like being ordered to do things like cleaning, no bodily harm," the elder Castillo said in an interview over dzMM.
He said Aegis Juris is "a legal fraternity in the UST which abhors violence," hence their decision to allow Horacio to join.
He said UST Faculty of Civil Law dean Nilo Divina is a family friend, and himself a member of Aegis Juris. "As a parent, I've seen other cases of hazing… How can I report this when the dean of law is a member of the fraternity he (Horacio) wanted to get in?"
The initiation lasted several days. The elder Horacio said his son told him Friday the initiation was over and that he would be officially welcomed by the fraternity on Saturday night.
They became worried, he said, when Atio could no longer be reached by phone on Sunday morning.
They started calling two numbers written on a pamphlet from Aegis Juris that Atio left at home.
Later, they got an answer from one of the numbers telling the father that Atio was brought to the Chinese General Hospital and was apparently dead.
The family sought help from a telecommunication company to retrieve the call logs from cell phone numbers 0977-8142295 and 0915-3774321. They later found out that the numbers had contact with Atio at around 11 p.m. Saturday, according to the elder Castillo.
The father said he could not believe his son's fraternity brothers did not bother to bring him to nearby hospitals. UST has a hospital.
"Ang daming hospital sa Sampaloc, they could have given him immediate treatment, but they dumped him on the sidewalk," he lamented.
Manila Mayor Joseph Estrada, meanwhile, has ordered police to investigate the case thoroughly.
"He told me to coordinate personally with the UST officials and of course to fast-track the investigation, as well as regarding the concerns of the parents of the kid," Manila Police District (MPD) director Chief Supt. Joel Napoleon Coronel said.
He said at least six Aegis Juris members, as well as alumni and faculty members, were involved.
The MPD is performing post-mortem autopsy on the victim to determine the real extent of his injuries.
They are still trying to determine actions that may be taken against members of the faculty and students present during the hazing.
"We have the names, but we are keeping these confidential as of this moment because follow-up operations and investigations are ongoing," Coronel said.
He confirmed that based on their initial investigation, the victim died from injuries due to hazing. – With Ghio Ong, Jose Rodel Clapano, Janvic Mateo