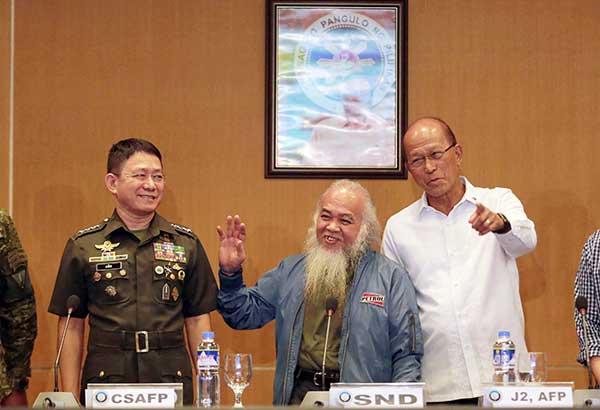 Rescued Catholic priest Rey Teresito Soganub waves to reporters as he is presented in a news conference at Camp Aguinaldo yesterday. Joining him are Armed Forces chief Gen. Eduardo Año (left) and Defense Secretary Delfin Lorenzana. MICHAEL VARCAS
Rescued priest: Pray for my healing, recovery
MANILA, Philippines — More than 24 hours after his rescue from the hands of the terrorist Maute group in Marawi City, Catholic priest Rey Teresito Suganob was finally allowed to make a public appearance at Camp Aguinaldo in Quezon City yesterday.
Father Chito thanked the military and the public as Defense Secretary Delfin Lorenzana, Armed Forces of the Philippines (AFP) chief of staff Gen. Eduardo Año and other ranking military officials presented him to the media.
"I'll pray for you. God bless you all. Pray for me for my healing and recovery. Thank you very much. God Bless you," said the priest, still sporting a long, white beard.
"I am physically strong and sound. Yun lang (that's all)," he added.
The 51-year-old priest waved and gave a flying kiss during his presentation. He was escorted out of the press briefing by a doctor and security personnel.
During his travel to Manila, Suganob expressed belief that Christians and Muslims are not at war in spite of the hardships and difficulties he went through for 117 days as captive of the Maute group.
"Hindi pa rin tayo magkaaway. Magkaisa pa rin tayo (We are not enemies. We are still united). We believe in one God," Suganob told Autonomous Region in Muslim Mindanao assemblyman Zia Alonto Adiong while they were on board a plane that brought them to Manila from Cagayan de Oro City.
Suganob was kidnapped by the Islamic State-inspired Maute group on May 23, the first day of the Marawi crisis and martial law in Mindanao.
A few days after his kidnapping, an online video surfaced showing the priest appealing to Duterte to stop the military operations in Marawi.
Lorenzana said Suganob and Lordbin Noblesa Acopio, 29, of Badiangan, Iloilo City were rescued at 11:45 p.m. on Saturday in Barangay Sangkay, Dansalan, Marawi City.
Government troops planned the rescue as early as Sept. 15 when Lorenzana gave the go-signal to assault the Bato mosque, which allowed soldiers to gain a foothold on Saturday and extricate the Catholic priest.
"While the terrorists were busy repelling the attack, the troops had the opportunity to snatch Father Chito and Mr. Acopio during the melee," the defense chief added.
He also said soldiers and other security forces fighting the Maute group did an "excellent job" in retaking Bato mosque – a "very significant gain" because it was used by the terrorists as their battle position, machine gun nest and sniper area.
The AFP said the area controlled by the Maute group is getting smaller each day as it now covers about 10 hectares or about one fourth of Camp Aguinaldo.
"I am confident that the soldiers, airmen, sailors, marines, policemen and coast guards will be able to accomplish their mission sooner than expected," Lorenzana said.
"Your government's security forces, the AFP, the PNP, the Coast Guard will remain strong, able and committed to defeat all threats to national security, and I mean all threats foreign or domestic.
"We will not allow any of them to get a foothold of even an inch of our sovereign territory. And every soldier, airman, sailor, marine, policeman and coast guard will be true to that commitment," he added.
Lorenzana said Suganob will have to undergo further medical and psychosocial examination and custodial debriefing to determine his actual state of health and get more information from him that would help soldiers determine how to proceed with operations against the Maute group.
"For now, we know that he underwent really harsh conditions, so I think what Father needs now is rest in order to adjust," he said.
Rody: Special ops, not backdoor talks
Meanwhile, President Duterte maintained yesterday that the freedom of Suganob was made possible by "special operations" of government forces and not by backdoor talks with militants.
Duterte said he would never negotiate with the Maute group, as he stressed that the offensives against the jihadists would continue "until the last terrorist is taken out."
"You know, Fr. Suganob, he was not released. He was liberated through special operation… that means, the Special Forces and Rangers maneuvered it," the President told reporters in Caloocan City.
Asked if backdoor negotiations were held to ensure the safe release of the Catholic priest, Duterte replied: "Impossible. I will not even agree to look at them. You understood what I said before, that this will not end until the last terrorist is taken out. – With Alexis Romero, Evelyn Macairan, Edith Regalado, AP