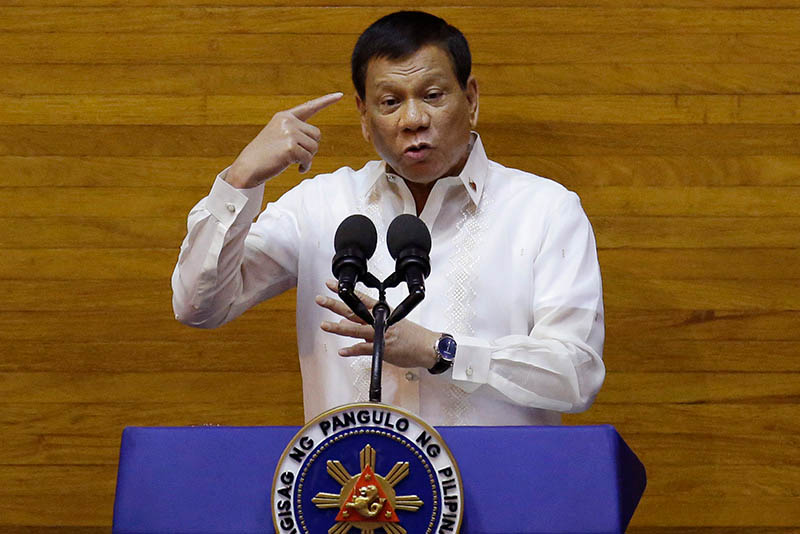 President Rodrigo Duterte gestures during his second state of the nation address at the House of Representatives in suburban Quezon city, north of Manila, Philippines, Monday July 24, 2017. AP/Aaron Favila
Duterte says rallyists can have EDSA while he protests 'corrupt yellows'
(philstar.com) - September 19, 2017 - 1:33pm
MANILA, Philippines — A "pissed off" President Rodrigo Duterte Tuesday vowed to protest against what he described as "corrupt yellows" in the government that he could not oust because they have fixed terms.
Duterte said he would hold a protest on September 21 to speak out against some officials who enjoy security of tenure.
The president declared September 21 as a national day of protest after groups associated with the political left and the opposition bared plans to hold rallies to condemn the killings tied to the war on drugs and martial law in Mindanao.
"Kasi ako, proprotesta rin kasi maraming mga dilaw sa mga commission napakacorrupt (I will also protest because many yellows in the commissions are very corrupt)," Duterte told state-run television station PTV 4.
"I cannot remove them simply because they have a fixed term and security of tenure. That means you cannot just ask them to leave," he added.
Yellow is the campaign color of the Liberal Party, the ruling political group during the previous administration.
Duterte said he never asked these officials to step down "out of delicadeza."
The president accused Commission on Human Rights Chair Chito Gascon of being a spokesman of the opposition Liberal Party and ignoring the plight of the victims of crime and terrorism.
"Gascon is really a spokesman of the Liberal (Party). If there is an issue involving the death of a person, he will bring it up repeatedly," he said in Filipino.
"I'm really pissed off because there are many deaths that the (Commission on) Human Rights should look into."
Duterte cited the two-year-old boy raped and killed by his drug-intoxicated uncle and the women who were kidnapped and raped by Maute terrorists in Marawi City.
"I have not heard anything (from the CHR), not even a whisper or an appeal to various groups," he said.
"You ignore other people. It's as If nothing happened to them."
Duterte also advised Gascon not to pass judgment until all results of investigations reach his office.
Duterte to protesters: You can have EDSA if you want
Duterte said groups who want to hold rallies on September 21 can have the entire EDSA, the site of popular revolts that toppled the regime of former Presidents Ferdinand Marcos and Joseph Estrada.
He said he is ready to close the avenue but warned that the move could cause sufferings among commuters.
"If you tell me you'll stay there for three days, I'll give you five days. If you say you'd occupy it… you want to defecate, eat or sleep there, I'll give you two months," Duterte said.
"I can close EDSA. You can have it. I will just order the rerouting of the traffic. The Filipinos will have to suffer," he added.
Duterte also challenged anti-government protesters to "produce the crowd" in EDSA, adding that he is ready to step down from his post anytime.
"If you want to make it a shrine of protest, tell me and I will close EDSA. Use the other routes," the President said.
"I'll just ask the military and police to walk. For emergency cases, if you are in Valenzuela, I'll ask the military to send a chopper and bring you to a hospital," he added.
"Go ahead, be my guest I will just reroute the traffic." — Alexis Romero