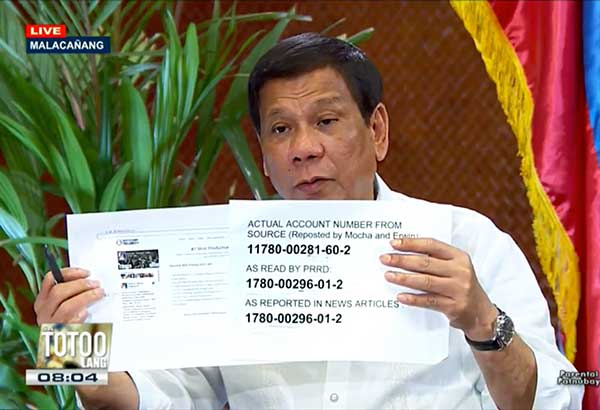 President Duterte holds documents in a PTV interview at Malacañang yesterday. One document shows Sen. Antonio Trillanes IV's supposed bank account numbers, including one that Duterte said he made up as a trap for the senator.
'Bank clearance? Trillanes fell for my trap'
(The Philippine Star) - September 19, 2017 - 4:00pm
MANILA, Philippines — Sen. Antonio Trillanes IV claimed yesterday that he has debunked the allegations of President Duterte about his supposed offshore bank accounts.
Trillanes went to Singapore yesterday to personally visit two banks where he supposedly has accounts.
The President said he has evidence to prove that Trillanes stashed funds in various banks overseas, including Singapore and Switzerland.
Using the social media posts of Duterte supporters led by Presidential Communications Operations Office assistant secretary Mocha Uson, Trillanes took the account information of two banks, the Development Bank of Singapore (DBS) and Hongkong Shanghai Bank, both based in Singapore.
Trillanes first visited the DBS branch in Alexandra yesterday morning and inquired about account number 1178000281602, under the name of Antonio F. Trillanes, which allegedly had a balance of S$193,850 or P7.3 million as of Aug. 30 this year.
According to Trillanes, he was told by the DBS branch manager that the account number was erroneous.
He then asked the bank to check its system for any account under his name, whether it is with the fourth (IV) suffix or just Antonio Trillanes; whether these are joint or single accounts; closed or active, but none of these were found.
Trillanes said that he was not able to secure a certification from the bank because he is not and never was a client of the bank.
After DBS, Trillanes went to the Raffles City Tower where the Hongkong Shanghai Bank is supposedly located, based on the documents being spread in social media.
The social media posts indicated that the Hongkong Shanghai Bank branch in Raffles with account number 0016729915127 under the names of Antonio F. Trillanes and Robert Fong had a balance of S$278,300 or P10.5 million as of Aug. 30 this year.
Upon checking the Raffles City Tower directory, Trillanes noted that no such bank held office there.
He then proceeded to Marina Square along Raffles Boulevard to see if there was a Hongkong Shanghai Bank there and all he found was an ATM of HSBC.
"How can I own bank accounts there when no such bank exists in Raffles? This is how lax they were in making these," Trillanes said, referring to the accusations leveled against him.
"So this means the two accounts here in Singapore are fake and this means everything else is fake. These were fabricated and invented by them," he added.
By proving that the Singapore accounts do not exist, Trillanes said that he was also able to prove that Duterte was lying when he made his claims about his supposed accounts.
Presidential spokesman Ernesto Abella said Trillanes' claims should be verified.
"It is something to be verified. The President already checked into the background of that particular account," Abella said.
When asked if Trillanes tried to mislead the public, Abella said he wants to stick to the facts.
He expressed optimism that the President has evidence to prove his claims about the senator's bank accounts.
"I cannot speculate on his intentions, OK? Just the facts. Stick to the facts. Apparently, it was there and it was closed. If that is the case, I will have to check on that," Abella added.
Duterte jumped the gun on Trillanes when he referred to the senator's Zurich and Singapore accounts as already closed in an pre-taped interview aired last Friday over state-run PTV-4. The TV segment was taped on Sept. 12, ahead of the senator's planned trip to Singapore yesterday.
"Our providers suggested that before closing his Zurich bank account and Singapore bank account – since all of these accounts are single accounts without co-depositor – additionally the information that we provided has existing slips as evidence of these two accounts and were acknowledged to be in existence," Duterte said.
Duterte revealed last week that the US bank account number 927519921320 in Zurich had a balance of $75,000 or P3,801,385.05. The DBS account number 178000296012 in Singapore had a balance of $193,000," he added.
Duterte noted a closer look at his bank account documents in Zurich and Singapore revealed that these bore the name Antonio F. Trillanes. "Check on this name because the senator's complete name is Antonio Fuentes Trillanes, will force to the wall the senator…" Duterte said.
Wrong account number
Last night, however, Duterte admitted he gave the wrong account number of Trillanes purportedly in Singapore, which the Chief Executive used as a "bait" to paint how the senator has been lying about his savings accounts abroad.
Duterte said he intentionally read the wrong account number, 1178000291602, during a recent public interview to "fool" the senator.
Instead of "8," the President changed it to "9" in a bid to entrap the senator.
"Binasa ko, binawasan ko ng number – wala ito, imbento lang (I read, I removed a number – this one I just invented). You know, when you lie, you put another lie to cover this lie… To cover this lie, patong-patong na 'yan (it's one on top of the other)," Duterte said in a live one-on-one interview with Erwin Tulfo in "Sa Totoo Lang" aired over state-run PTV4, as he held a document showing the differences in Trillanes' actual account to that one he wrongly read in an interview last week also over PTV4.
Duterte also called on the Anti-Money Laundering Council (AMLC) to immediately "produce certificates from their counterparts abroad" to prove the existence of the Trillanes accounts.
Duterte laughed at the senator for falling into the trap and going to Singapore "out of desperate attempt" to dispel his claims.
He added that Trillanes even put the "wrong" bank account number into the waiver he released to the media in an attempt to clear his name over the illegal bank deposits.
The actual bank account number (1178000281602) posted in the social media accounts was correct, according to Duterte, also revealing that Trillanes has been going back and forth to Singapore recently in his rush to close the accounts.
The senator maintained not just one account in Singapore, the President said.
The account/s in Hong Kong were also closed, Duterte said, adding he got information from a government which is keen on money-laundering issues.
"There are Singapore banks – account joint with none – plural, not just one," Duterte said, lashing out the senator for misleading the public and the media over his foreign bank accounts.
Duterte then told the Filipino people that the senator is just fooling them.
"Mga Pilipino, niloloko kayo ng isang tao na pinag-aral n'yo sa PMA (Filipinos, you are being fooled by a man you sent to the PMA to study), he pictured himself to be a righteous man," he said, referring to the Philippine Military Academy from where Trillanes graduated.
"Ang waiver niya hindi sa PIlipinas, hindi ito tatanggapin ng Singapore. Walang bangko na mag-issue ng ganito (His waiver won't be accepted in Singapore. No bank will issue this kind of waiver)," he added. – Marvin Sy, Christina Mendez