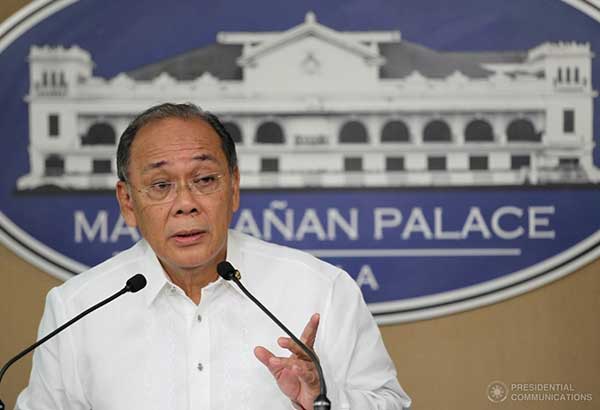 "We don't have any reports on that," presidential spokesman Ernesto Abella said when asked to react to the possibility of Estrada becoming a state witness. Presidential Photo/King Rodriguez, File
Palace unaware of plan to make Jinggoy state witness
Alexis Romero
(The Philippine Star) - September 19, 2017 - 4:00pm
MANILA, Philippines — Malacañang is not aware of any plan to turn former senator Jinggoy Estrada into a state witness in the alleged anomalies involving the Disbursement Acceleration Program (DAP) of the previous administration.
"We don't have any reports on that," presidential spokesman Ernesto Abella said when asked to react to the possibility of Estrada becoming a state witness.
On Sunday, Justice Secretary Vitaliano Aguirre II told The STAR that Estrada could become a witness in the probe and possible filing of charges on the alleged irregularities surrounding the DAP.
Aguirre said Estrada had claimed to have received P50 million in DAP funds supposedly to ensure that the late chief justice Renato Corona would be convicted during the impeachment trial in 2012.
A fact-finding investigation would be conducted to determine who may be liable for the irregularities in the program, Aguirre added.
On Saturday, Estrada said nobody had talked to him about the possibility of becoming a state witness in the DAP controversy.
He also expressed openness to become part of the Cabinet of President Duterte.
Abella said he is not aware if Estrada has been offered a Cabinet post.
Duterte mum on Estrada bail
Duterte also kept mum on the Sandiganbayan's decision to allow Estrada to post bail in the plunder case filed against Estrada for his alleged involvement in the pork barrel fund scam.
"Ask the Sandigan. That's not my territory," the President said in an interview in Caloocan City Monday night.
Chief presidential legal counsel Salvador Panelo said Duterte does not interfere with the work of other branches of government.
"The President has repeatedly said that he never meddled… He never called any department secretary on any matter," Panelo told state-run Radyo Pilipinas.
"The same is true with Congress. He does not interfere," he added.
Estrada is one of three senators implicated in the multibillion-peso pork barrel scam. He was accused of receiving P183 million in kickbacks from nonexistent projects. He was arrested and detained in Camp Crame in 2014.
On Friday, the Sandiganbayan allowed Estrada to post a P1.33-million bail for his plunder and graft charges.
Three of five Sandiganbayan associate justices voted to grant his request for temporary freedom while undergoing trial on grounds that the evidence against him is not strong.
Prosecution to have bail grant reversed
Office of the Ombudsman Chief Prosecutor Edilberto Sandoval, a former presiding justice of the Sandiganbayan, has vowed to exhaust all legal means to have the court's decision granting bail to Estrada reversed, since the prosecution only needs to convince one of three magistrates to reconsider.
"We are preparing a motion for reconsideration," he told reporters yesterday.
Magistrates who voted in Estrada's favor cited the Supreme Court's decision in the plunder case of former president Gloria Macapagal-Arroyo in the alleged misuse of Philippine Charity Sweepstakes Office funds where the SC junked the criminal case based on a demurrer to evidence. It also questioned the failure of the prosecution to determine who the main plunderer is.
But Sandoval pointed out that since Estrada is accused of conspiring with alleged pork barrel scam mastermind Janet Lim-Napoles, it means they are both the main plunderers who should not be granted bail. – With Michael Punongbayan