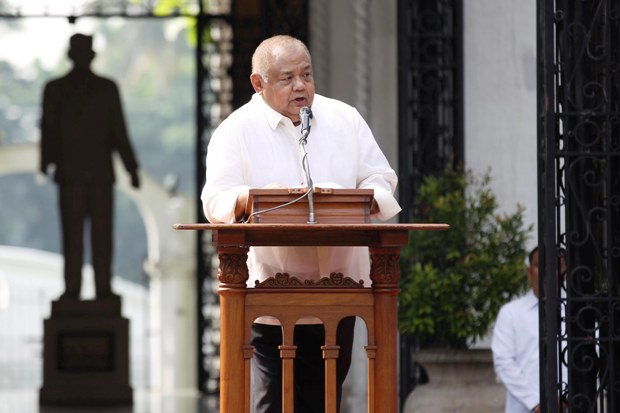 In a statement issued by the Office of the Executive Secretary, the Palace clarified that Memorandum Circular no. 26, which suspends work in government and classes in public schools on September 21, only applies to the executive branch of government. Malacañang Photo Bureau/King Rodriguez, File
Palace: Memo on work suspension only covers Executive branch
(philstar.com) - September 20, 2017 - 3:00am
MANILA, Philippines – Classes in public schools at all levels as well as government work are suspended on September 21, according to Memorandum Circular No. 26 issued by Malacañang. However, that only covers employees in the executive branch of government.
"The other branches of government where the executive branch has no jurisdiction is not covered by the MC," the Office of the Executive Secretary said in a statement.
"Government employees who will be assigned to report for work on September 21 shall be remunerated through compensatory time-off for hours of work rendered, per Civil Service Commission rules and regulations," it added.
"Suspension of work in the private sector and classes in private schools in the affected areas is left to the sound discretion of their respective heads."
Proclamation notes gross human rights violations under Marcos
Signed by Duterte on September 19, the Palace also on Wednesday released a copy of Proclamation No. 319, which noted the "commission of gross human rights violations, arbitrary state interventions, rampant corruption, and disregard of fundamental civil liberties" during Marcos' military rule.
"This administration recognizes the fear and indignation of the people against a repetition and perpetuation of such human rights violations and all other failings of this government," the document reads.
A coalition of groups called "Movement Against Tyranny" recently announced its plan to stage massive demonstrations in Manila on September 21 to protest Duterte's deadly drug war as well as his "own drift to tyranny and authoritarian rule."
Last week, Duterte hinted that he might suspend government work and classes in Metro Manila on that day. He then clarified that the said date is not declared a holiday.
The president also assured communist rebels who would participate in the protests that they would not be arrested as long as they do not violate any law. He also encouraged underpaid media workers to join the protests.
"I urge all protesters to act within the bounds of the law, maintain a peaceful conduct of rallies, marches and demonstrations, be vigilant of possible infiltrators who may instigate violence in an effort to provoke police and other law enforcement authorities, and avoid causing any undue inconvenience to their fellow citizens," Duterte said in his proclamation.
"I hereby order all police and other law enforcement authorities to observe maximum restraint and maintain such distance from these assemblies and mass actions as may be necessary to allow protesters the full exercise of their rights within the bounds of the law," he added.
The late strongman's Proclamation 1081, the declaration of martial law, was actually announced on September 23, 1972 but was backdated to September 21, the day that the government began enforcing it.
Martial law is a very sensitive topic in the Philippines after Marcos, whose presidency was tainted by allegations of human rights abuses and corruption, enforced it to prolong his stay in power.
Last year, Duterte, an ally of the political clan, granted the longstanding wish of the Marcos family to bury the strongman's remains at the Libingan ng mga Bayani in a surprise ceremony.
He also declared September 11 a special non-working day in Ilocos Norte upon the family's request to mark the ex-leader's 100th birthday anniversary.