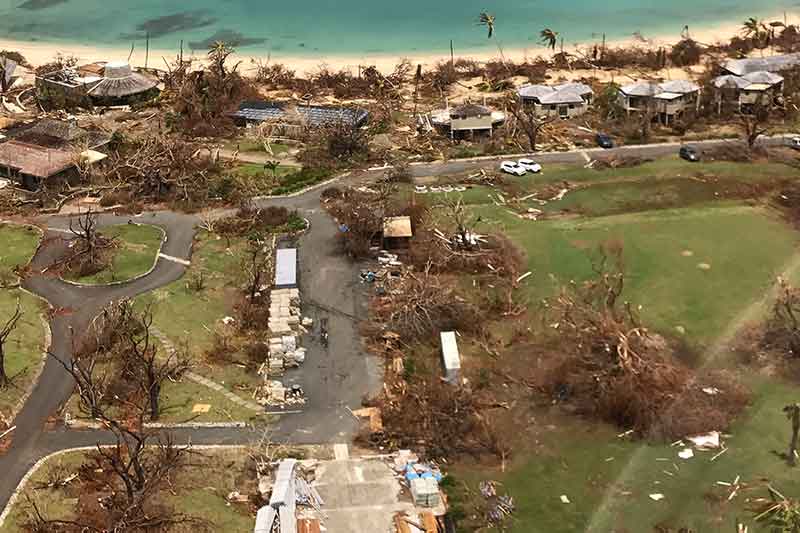 This Sept. 14, 2017 photo provided by Guillermo Houwer on Saturday, Sept. 16, shows storm damage to the Little Dix Bay Resort in the aftermath of Hurricane Irma on Virgin Gorda, in the British Virgin Islands. Guillermo Houwer via AP
132 Filipinos repatriated from hurricane-struck Caribbean
(philstar.com) - September 20, 2017 - 3:20am
MANILA, Philippines — About 132 Filipinos who were rescued from the hurricane-struck British Virgin Islands, Anguilla and Sint Maartens are expected to arrive in Manila on Wednesday.
The Philippine government evacuated the Filipino hurricane survivors from Puerto Rico hours before Hurricane Maria entered American territory.
"It was really a race against time as we had to make sure the plane takes off before Hurricane Maria slams into Puerto Rico," Chargé d'Affaires Patrick Chuasoto said.
The Philippine Airlines flight left Puerto Rico at 10:50 a.m. on Tuesday and will make a technical stop in San Francisco before making its way to Manila.
According to DFA spokesperson Robespierre Bolivar, among the Filipino evacuees are three pregnant women, two elderly passengers, an infant and a passenger who will be needing a wheelchair upon arrival.
Consul Katrina Borja Martin, along with the four-team member from the Philippine Embassy in Washington, will also be on the flight.
"We praise and thank God for the successful rescue and repatriation of our hurricane-stricken kababayans from the Caribbean," Foreign Affairs Secretary Alan Peter Cayetano said in a statement.
Cayetano noted this is the first repatriation that the Philippines undertook in the Americas as a result of a natural disaster.
More than 1,000 Filipinos in Puerto Rico and other islands in the Caribbean are advised to brace for Hurricane Maria.
"We strongly reiterate our advice to the Filipino communities along the path of Hurricane Maria to prepare as best as they can, follow the directives of local authorities, and track the storm's progress," Chuasoto said.
The category 4 to 5 hurricane is forecasted to directly hit Puerto Rico with winds of 247 kilometers per hour and violent storm surges. It will also affect the British Virgin Islands, the Dominican Republic, and the US Virgin Islands. — Patricia Lourdes Viray
RELATED: New Hurricane Maria growing threat to Irma-slammed Caribbean