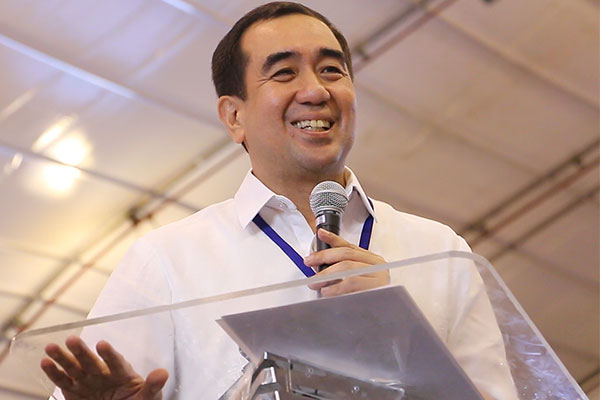 Comelec Commissioner Andres Bautista says the commission is "business as usual" after the House of Representatives junked the impeachment complaint against him. Philstar.com/Efigenio Toledo IV, File
House junks impeachment complaint vs Comelec chair
(philstar.com) - September 20, 2017 - 5:15am
MANILA, Philippines — The House of Representatives Committee on Justice has junked the impeachment complaint filed against Commission on Elections Chairman Andy Bautista. Voting 26-2, the committee dismissed the complaint filed by former Rep. Jacinto Paras and lawyer Ferdinand Topacio and declared it insufficient in form.
Kabayan party-lisy Rep. Harry Roque, Cebu Rep. Gwen Garcia and Cavite Rep. Abraham Tolentino endorsed the impeachment complaint to the committee.
Bautista was accused of alleged culpable violation of the Constitution and betrayal of public trust.
'Substitution verification'
Before the complaint's sufficiency of form was put to a vote, the committee debated on whether the Motion to Admit Substitution Verification should be allowed.
Roque raised that "substitution is not prohibited," adding that the issue of the complaint is more than just a "domestic squabble," and concerns the "integrity of the Commission on Elections" where the country's "democracy is at stake."
The motion was met with opposition from several lawmakers.
Albay Rep. Edcel Lagman said that: "Just because the pleading or amendment is not prohibited, it must be allowed."
Misamis Occidental Rep. Henry Oaminal, for his part, said that "allowing the amendment of the verification, is in effect, allowing liberality which will [be] counter to the standard" imposed by Congress.
Majority Floor Leader Rodolfo Fariñas, also Ilocos Norte representative, pointed out that: "If you look at the records and allegations, most of them are not their personal knowledge. Several paragraphs are quotes from news accounts."
An impeachment complaint against President Rodrigo Duterte earlier this year was junked because the committee ruled that the allegations were based on news reports and not the personal knowledge of Magdalo party-list Rep. Gary Alejano.
Paras and Topacio accused Bautista of culpable violation of the Constitution for his alleged misdeclaration in his Statement of Assets, Liabilities and Net Worth, which was first alleged by Chairman Bautista's estranged wife, Tish.
The commissioner was also accused of failing to "promptly act" on preventing data breach of the Comelec's website.
Roque implored with his colleagues and stressed the significance of hearing the complaint.
However, the Justice committee, voting 27-3, junked the Motion to Admit Substitution Verification.
Voting on form
Garcia and Roque were later outvoted by 26 of their colleagues who rejected Garcia's motion to find the impeachment complaint sufficient in form.
Bautista, for his part, said in a statement that he "welcomes" the dismissal of the complaint as it "proves to be a significant step in clearing [his] name after the malicious accusations."
"As I have always maintained, the allegations are fabricated and baseless," Bautista added.
The Comelec chair vowed the commission "will continue to perform our mandate in respect of the credible conduct of Philippine elections."
Rep. Tolentino, who endorsed the complaint, did not support the motion.