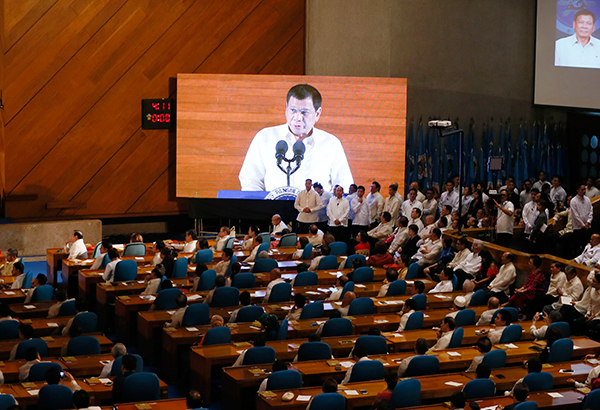 The common legislative agenda has 28 measures. The list, however, is not updated as it still contained the Free Higher Education Act, which was already signed into law by the president this month. AP Photo/Bullit Marquez, File
LEDAC to convene today to tackle BBL, other measures
(philstar.com) - September 20, 2017 - 8:59am
MANILA, Philippines — The Legislative Executive Development Advisory Council will hold its third meeting under the Duterte administration on Wednesday to discuss the government's key legislative measures, including the Bangsamoro Basic Law.
The 20-member advisory body will convene at the Malacañan Palace's Aguinaldo State Dining Room later at 7 p.m. The meeting will be presided over by President Rodrigo Duterte, who also sits as the council's chair.
According to a list of agenda sent to reporters by House Majority Leader Rodolfo Fariñas, the LEDAC meeting will tackle the BBL, which seeks to create a new Bangsamoro political entity in Mindanao with greater economic and political powers.
To recall, Duterte earlier assured the Moro Islamic Liberation Front that the pending Bangsamoro law remains a priority of his administration and has vowed to meet with congressional leaders to fast-track its passage.
Meanwhile, the LEDAC will also zero in on corruption in government and amendments to the procurement reform act. The proposed bill on cancer management and control is also up for the council's discussion.
The LEDAC meeting will likewise touch on the Common Legislative Agenda of Malacañang and Congress, particularly the proposed Tax Reform for Acceleration and Inclusion and end of contractualization.
The proposed creation of the Department of Housing and Urban Development as well as other "critical" departments will also be tabled for Wednesday's meeting.
After a five-year hiatus, the Duterte administration reconvened LEDAC for the first time on Jan. 30. The advisory body held its second meeting last month where the council approved the legislative agenda.
The agenda has 28 measures, based on the list provided by Malacañang. But the list was no longer updated as it contained the Free Higher Education Act, which was already signed into law by the president in August.
LEDAC was established under Republic Act 7640 during the administration of former president Fidel Ramos.