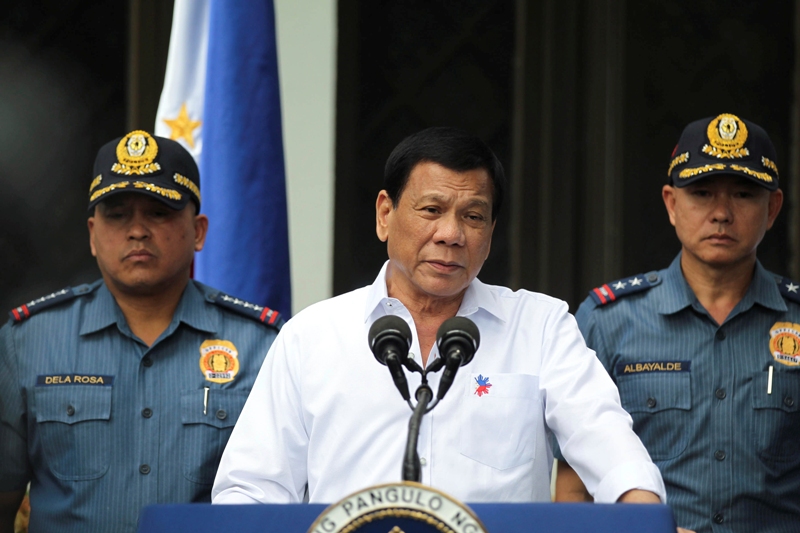 In this photo provided by the Presidential Photographers Division, Malacanang Palace, Philippine President Rodrigo Duterte, center, speaks to erring policemen during an audience at the Presidential Palace grounds in Manila, Philippines, Tuesday, Feb. 9, 2017. Duterte angrily berated more than 200 allegedly erring policemen and said he would send them to a southern island to fight extremists dreaded for their beheadings. Duterte's expletive-filled outburst against the officers at the palace was his latest tirade against a police force that he has called "rotten to the core." He recently banned the national police from carrying out his anti-drug campaign after a group of officers used the crackdown as a cover to kidnap and kill a South Korean man in an extortion scandal. Simeon Celi Jr./Presidential Photographers Division, Malacanang Palace via AP
Duterte raises reward for arrest of 'ninja' cops to P3M
(philstar.com) - September 20, 2017 - 11:47am
MANILA, Philippine — President Rodrigo Duterte on Wednesday raised the bounty for cops involved in the illegal drug trade to P3 million as he expressed frustration over the slow hunt for these policemen.
"Wala namang nahuli na ninja cops. I'm raising the ante. I'm offering P3 million per head. Tignan ko. Tataas at tataas 'yan so that we will get them," Duterte said in his speech before government officials in Malacañan.
"Those who are connected in government whether military, police, Office of the President, mayor, mauuna talaga kayo. Why? Because we have become a narco-state," he added.
"Ninja" police officers are those who recycle illegal drugs seized in legitimate police operations.
READ: Duterte admits abuses rampant in Metro Manila police
Duterte easily won the race to Malacañang last year on a platform of weeding out crime and corruption by taking on a national level the tough measures he imposed during his long mayoralty in Davao City, including his bloody war on drugs.
The campaign remains hugely popular, according to surveys, despite condemnations from human rights watchers at home and abroad. Duterte has also thrown his extraordinary support behind the police force carrying out the crackdown, promising to pardon them if they are convicted to keep them out of jail.
READ: Duterte proposes realigning CHR budget to buy cops body cameras
Last month, Duterte announced a P2-million reward for the capture of each policeman involved in the killings allegedly ordered by the influential Parojinog clan in Ozamiz City.
Duterte said the Parojinog family, whom he accused of having ties with drug syndicates, used law enforcers to silence those who defied them and to perpetuate themselves in power.
Meanwhile, despite vehemently denying having a hand in alleged summary killings under his drug war, Duterte said he has no problems if erring cops would be killed.
"'Yung ninja cops, ilan ba ang nag-surrender? Just --- Balutin mo lang 'yung ulo nila, ilagay mo diyan sa hagdanan ko, okay na 'yan. No questions asked," he said.