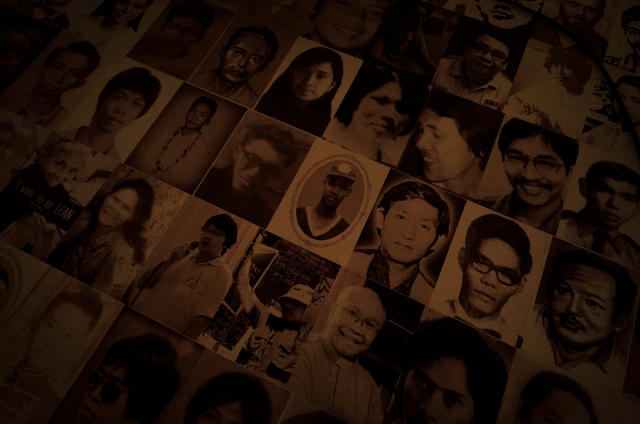 According to the proclamation, the martial law era that began with the promulgation of Proclamation No. 1081 has "imprinted itself in the collective memory of the people as a time attended by the commission of gross human rights violations, arbitrary state interventions, rampant corruption and disregard of fundamental civil liberties." People Power Commission/Released
Rody recognizes 'gross human rights violations' during martial law
Alexis Romero
(The Philippine Star) - September 20, 2017 - 4:00pm
MANILA, Philippines — Even as President Duterte has been accused of downplaying the atrocities committed during the Marcos regime, his proclamation on today's national day of protest recognized the "gross human rights violations" during the martial law years.
According to the proclamation, the martial law era that began with the promulgation of Proclamation No. 1081 has "imprinted itself in the collective memory of the people as a time attended by the commission of gross human rights violations, arbitrary state interventions, rampant corruption and disregard of fundamental civil liberties."
"The Administration recognizes the fear and indignation of the people against a repetition and perpetuation of such human rights violations and all failings of the government," the proclamation read.
Duterte issued Proclamation No. 319, where he declared Sept. 21 as National Day of Protest.
Duterte made an appeal to militant groups and critics participating in today's protest actions to be vigilant to prevent infiltration in their ranks that could lead to violence.
"I urge all protesters to act within the bounds of the law, maintain a peaceful conduct of rallies, marches and demonstrations, be vigilant of possible infiltrators who may instigate violence in an effort to provoke the police and other law enforcement authorities, and avoid causing any undue inconvenience to their fellow citizens," the proclamation read.
Militant groups and critics are expected to show up in a big rally today to mark the 45th anniversary of Marcos' declaration of martial law.
Groups associated with the political left and the opposition will hold protest actions at the Rizal Park to condemn the killings tied to Duterte's war on drugs and martial law in Mindanao.
Students, labor groups and some government workers' groups also said they will attend today's rally dressed in black.
Despite the suspension of government work, some agencies would be required to provide standby emergency assistance near sites of protest actions.
Security forces were placed on alert for possible outbreak of violence during the rallies.
The military was ordered to stay put in barracks and just support the police on possible contingencies.
"Our unit on standby and ready to support the PNP in all engagements in Metro Manila. So far, we don't monitor any threats and we hope that it would remain that way," Armed Forces spokesman Col. Edgard Arevalo said.
Health Secretary Paulyn Ubial has placed all government hospitals in Metro Manila on alert for possible medical emergencies for today's protest rallies.
Philippine National Police (PNP) chief Director General Ronald dela Rosa said they received reports that protesters from the Visayas and Mindanao are arriving on six passenger ships to join today's mass actions.
Dela Rosa said he is not discounting the possibility that critics of President Duterte have recruited warm bodies from other parts of the country to attend the rally.
"We expect that. While they are having difficulty in getting protesters from Luzon area, they are recruiting gullible natives there in Mindanao," Dela Rosa said.
National Capital Region Police Office (NCRPO) Director Oscar Albayalde said the information about the six vessels with protesters has not been confirmed.
"As of this time, we have not monitored any movement of that nature," he said.
Albayalde ordered the deployment of 600 policemen to secure the rally site in Rizal Park.
Additional policemen were deployed at the site where pro-Duterte supporters will hold a rally at the Don Chino Roces bridge near Malacañang to show their support for the President.
The President ordered law enforcement authorities to observe maximum restraint and maintain distance from assemblies and mass actions to allow protesters to fully exercise their rights within the bounds of law.
There have been speculations that Duterte is planning to place the entire country under martial law, but the defense department said the possibility of such declaration was "remote."
Duterte has warned that he would impose military rule if communist rebels bring their armed struggle to the streets and protests turn violent. – With Ghio Ong, Sheila Crisostomo, Jess Diaz, Janvic Mateo, Emmanuel Tupas, Jaime Laude