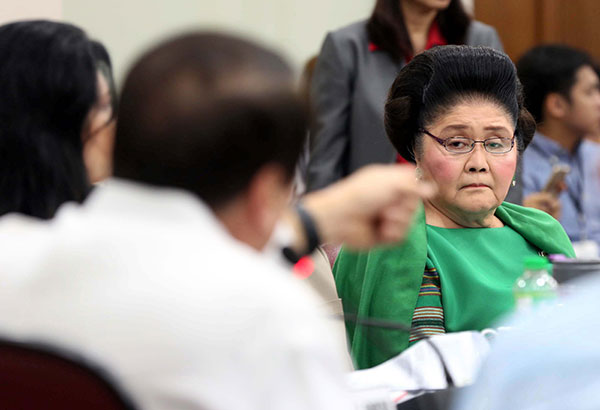 In an 11-page memorandum filed before the Sandiganbayan's Fifth Division on Sept. 19, Ilocos Norte Rep. Imelda Marcos asked the anti-graft court to acquit her of 10 graft cases in connection with the Swiss foundations she allegedly founded during her term as Batasan assemblywoman and Metro Manila governor. BOY SANTOS/File
Imelda seeks acquittal in 10 graft cases
MANILA, Philippines — As the nation commemorated the 45th anniversary of former president Ferdinand Marcos' declaration of martial law, his widow maintained that she and her husband never had financial gains from the Swiss foundations they allegedly created during the so-called conjugal dictatorship.
In an 11-page memorandum filed before the Sandiganbayan's Fifth Division on Sept. 19, Ilocos Norte Rep. Imelda Marcos asked the anti-graft court to acquit her of 10 graft cases in connection with the Swiss foundations she allegedly founded during her term as Batasan assemblywoman and Metro Manila governor.
Marcos, through her lawyer Robert Sison, maintained that the Office of the Ombudsman's prosecution team failed to present any evidence to prove that she had "financial or pecuniary interests" in the foundations and private corporations being linked to her and her late husband.
"True, participating in the management of a business is proscribed by the Constitution but by itself, such participation is not punishable under Section 3(h) of (Republic Act) No. 3019. There must be a showing of a prohibited pecuniary or financial interest in a contract with, or a privilege or franchise granted by the government," Marcos' memorandum read.
Filed by the ombudsman in December 1991, the 10 counts of graft against Marcos stemmed from the alleged creation of several private foundations in Switzerland and holding of financial interests in various private enterprises from 1976 to 1986 when she was minister of human settlements and concurrent Metro Manila governor and from 1978 to 1984 while she was a member of the Interim Batasang Pambansa.
The prosecution said Marcos violated Section 3(h) of RA 3019 or the Anti-Graft and Corrupt Practices Act, which prohibits public officials having financial or pecuniary interests in any business, contract or transaction in which he or she has the official capacity to intervene, or in which he or she is prohibited by the Constitution or by any law from having any interest.
The Presidential Commission on Good Government had earlier identified a total of $658 million in deposits in the conjugal Swiss dollar accounts of the Marcos couple named under several foundations.
The prosecution said the Marcos couple created secret foundations and opened bank accounts in Switzerland and Liechtenstein under these foundations' names to allegedly funnel illegally amassed government funds during martial law.
In her memorandum, Marcos further argued that "assuming without admitting" that the management of a foundation and private entity is punishable under Section 3(h) of RA 3019, she must still not be held liable of that offense.
"The reason is that the opening and maintenance of a bank account in the name of a business does not by itself constitute participation in the management of a business," Marcos said.