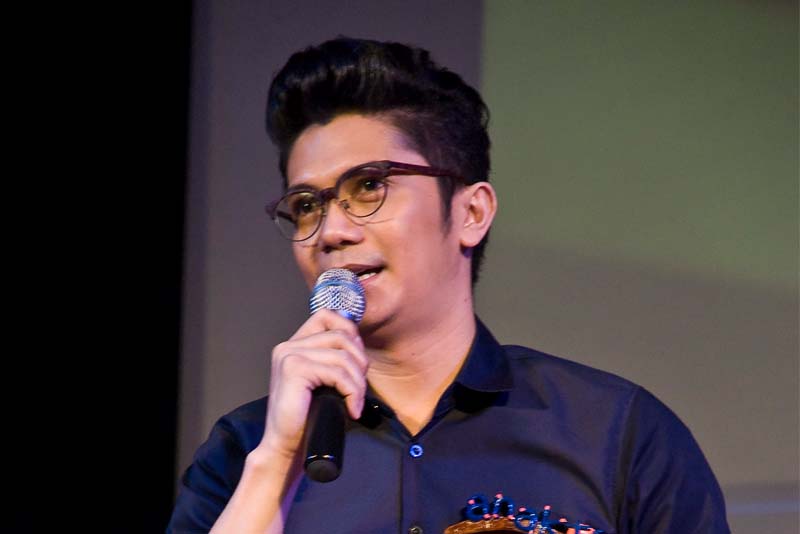 Comedian and television host Vhong Navarro is seen in this December 2012 photo receiving an Anak TV honor. ABS-CBN PR
Rape complaint against Vhong Navarro junked
(philstar.com) - September 22, 2017 - 5:32am
MANILA, Philippines — The Department of Justice junked rape and attempted rape complaints against actor Vhong Navarro due to lack of probable cause.
In a 24-page Review Resolution made public today, the DOJ junked the two counts of rape filed by commercial model Deniece Cornejo who worked as a double in Navarro's telenovela.
The complainant narrated that Navarro visited her in her condominium unit in Taguig City on Jan. 17, 2014 where he allegedly raped her while she was induced in a date-rape drug.
Navarro, in his defense, said that complainant's allegations in the third complaint-affidavit are embellished with "irrelevant, unsupported, even contradictory details and to highlight its fabricated nature."
In weighing in on the case, Prosecutor-General Officer-in-Charge Severeno Gaña Jr. noted that "the crime of rape is essentially a he-said, she-said thing, and a prosecution's case greatly depends on the narrations of the supposed victim.
The DOJ noted that the complainant filed three complaints-affidavit, and added "complainant and her story are incredible."
The DOJ pointed out that in the three separate complaint-affidavits where she "changed from no rape (or anything amorous for that matter) happening (first Complaint-affidavit), to rape being committed by force (second complaint-affidavit), and finally to rape being committed by rendering her dizzy and weak due to date rape drug-laced wine (third complaint-affidavit.)
The first complaint was dismissed by the Office of the Prosecutor General in a consolidated resolution dated April 4, 2014, while the second was dismissed by the Office of the City Prosecutor of Taguig on July 1, 2014.
"To be sure, the voluminous records of this case [were] meticulously scrutinized vis-à-vis the original Resolution finding probable cause. However, such thorough scrutiny has failed to make us engender a well-founded belief that the rape and attempted rape described by complainant actually happened," the resolution reads.
Days after the supposed incident, Navarro figured in a controversial mauling incident involving businessman Cedric Lee, a friend of the complainant. A separate illegal detention case was filed against Lee and Simeon "Zimmer" Raz.