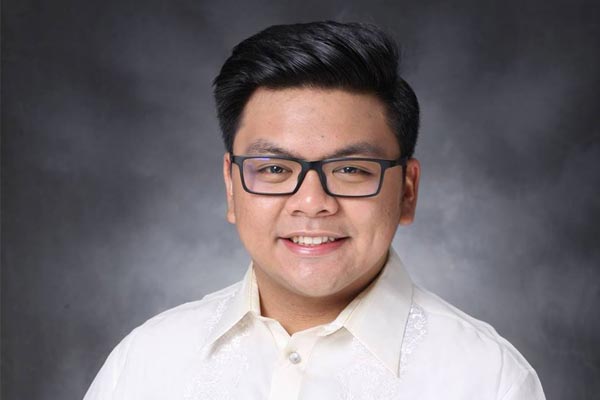 UST Law freshman Horacio Tomas Castillo III, believed to be a victim of fraternity hazing rites, was dumped on a sidewalk in Balut, Tondo. He informed his parents he would attend the "welcome ceremony" of the fraternity Aegis Juris but did not come home the day after. His body was bloated and had candle and cigarette marks and bruising. Photo from Horacio Tomas Castillo III's Facebook
Primary suspect in Castillo hazing case surrenders
(philstar.com) - September 22, 2017 - 7:30am
MANILA, Philippines – John Paul Solano, one of the primary suspects in the apparent fatal hazing of Horacio Castillo III, has surrendered to Sen. Panfilo Lacson.
Solano was accompanied by UST law dean Nilo Divina, also a member of Aegis Juris Fraternity.
Talking to members of the press, Solano admitted he is a member of Aegis Juris Fraternity and said that he found Castillo to "more or less dead" when he brought him to a hospital in Manila.
"I cannot give a final verdict that he is dead since I am not a doctor. He's unconscious. I did CPR. When I can't do anything else, I brought him to the hospital," Solano said in a press briefing streamed live on News5.
The lifeless body of Castillo, believed to be a victim of fraternity hazing, was initially reported to have been found on a sidewalk in Balut, Tondo.
Solano brought Castillo to the Chinese General Hospital on Sunday morning.
It was later learned that Solano is a member of Aegis Juris.
Solano apologized "for giving a false statement to the family [of Castillo] and to his death."
'I want to clear my name'
He added that he decided to come out because "it's getting worse. I want to clear my name because I know I am innocent."
Superintendent Joel Coronel, Manila Police District chief, said that they will take Solano into their custody in the meantime.
Coronel said that Solano can still be considered as a state witness in the case, depending on the police's "evaluation."
Solano said that he will execute another affidavit.
Another primary suspect in Castillo's case has reportedly left the country, a day ahead of the Immigration Lookout Bulletin Order was issued by Justice Secretary Vitaliano Aguirre.
Immigration records show that Ralph Caballes Trangia has fled the country to Taipei early morning of September 19.
Aguirre has ordered the National Bureau of Investigation, that is currently doing a separate probe on the matter, to coordinate with the Interpol to locate Trangia.
Trangia's father, Antonio, is also a suspect in the case.
The Justice chief also offered admission into the Witness Protection Program for anybody who wishes to shed light on Castillo's case.