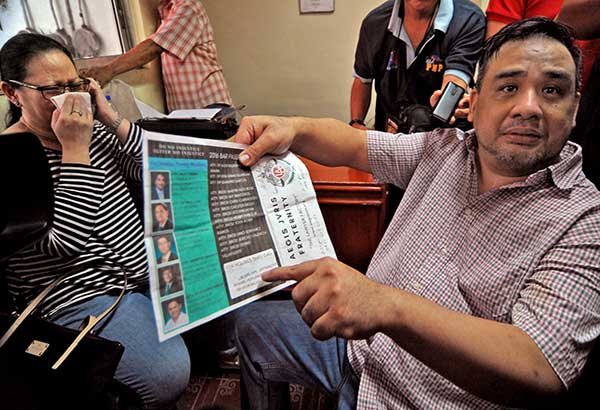 Carmina and Horacio Tomas Castillo Jr. said their son attended the fraternity's "welcoming ceremonies" but his lifeless body was found on Sunday morning in Tondo, Manila. EDD GUMBAN, file
Four Aegis Juris names added to immigration watchlist
(philstar.com) - September 22, 2017 - 9:45am
MANILA, Philippines – The Department of Justice has added four more names to the immigration watchlist against persons of interest in the apparent fatal hazing of Horacio Castillo III.
Justice Secretary Vitaliano Aguirre II on Friday released a revised Immigration Lookout Bulletin Order that now includes the following:
Ged Villanueva
Milfren Alvarado
Daniel Ragos
Dave Felix
The names were added "in the interest of the ongoing probe."
Spelling corrections have also been made to previously released subjects on ILBO dated Sept. 21: From Mhun Wei Chan to Mhin Wei Chan and Axel Munro Hipe to Axxel Munro Hipe.
Other members of the Aegis Juris Fraternity under the immigration watchlist are:
Ralph Trangia
Arvin R. Balag
Marc Anthony Ventura
Oliver John Audrey Onofre
Joshua Joriel Macabali
Jason Adolfo Robiños
Ranie Rafael Santiago
Danielle Hans Mattew Rodrigo
Carl Mattew Villanueva
Aeron Salientes
Marcelino Bagtang
Zimon Padro
Jose Miguel Salamat
John Paul Solano
Trangia, one of the primary suspects of the case, fled the country before dawn on September 19. He was on an EVA Air flight to Taiwan.
Aguirre has ordered the National Bureau of Investigation to coordinate with the Interpol to locate him.
Aguirre said that he will also move for the cancellation of Trangia's passport.
Solano, the other primary suspect in the case, surrendered to the authorities on Friday afternoon.
Solano brought the lifeless body of Castillo to the Chinese General Hospital after he reportedly found him "unconscious," "more or less dead."
Solano said that he surrendered to "clear his name," after apologizing to Castillo's family for "giving a false statement."
He added that he will also execute a new affidavit.
Superintendent Joel Coronel, Manila Police District chief, said that they will take Solano under their custody in the meantime.
Coronel said that Solano can still be considered as a state witness in the case, depending on the police's "evaluation."
Aguirre, earlier on Friday, said that the DOJ is offering admission into the Witness Protection Program to those who wish to come forward to shed light on the case.
Castillo's parents narrated that their son asked for permission to attend the welcoming ceremonies of the Aegis Juris Fraternity on Saturday morning. His body, covered in a blanket when found, sustained contusions in the upper arms and candle burn marks.