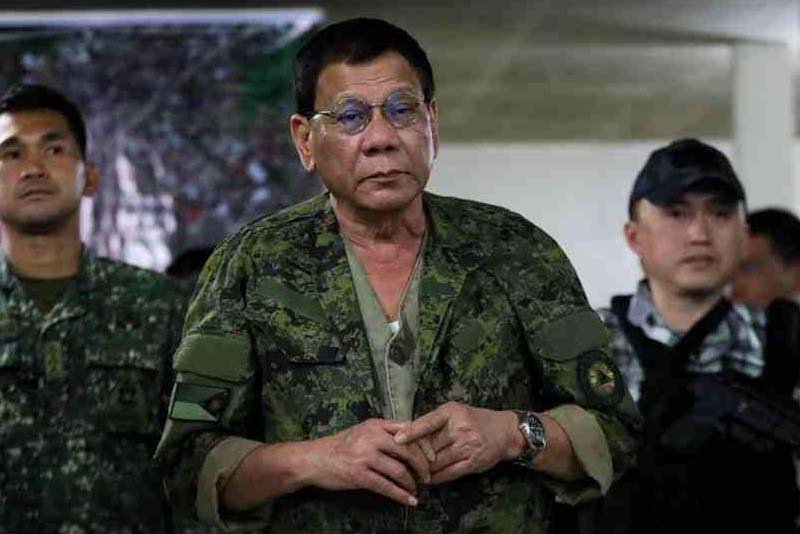 In this July 20, 2017 photo, President Rodrigo Duterte visits government troops who are engaged in a battle with the Maute terrorist group in Marawi City on July 20, 2017. The President gave out food packs and other assistance when he set foot at Camp Ranao. PPD/Ace Morandante
Duterte bares matrix of alleged Marawi siege financiers
(philstar.com) - September 23, 2017 - 3:20am
MANILA, Philippines — President Rodrigo Duterte on Friday released a "drug matrix" of politicians and alleged drug lords whom he claims to have financed the deadly Marawi siege, the biggest internal security crisis for the Philippines in decades.
Duterte first showed the drug matrix of personalities who supposedly funded the attack in Marawi during his fifth visit to the city on Thursday.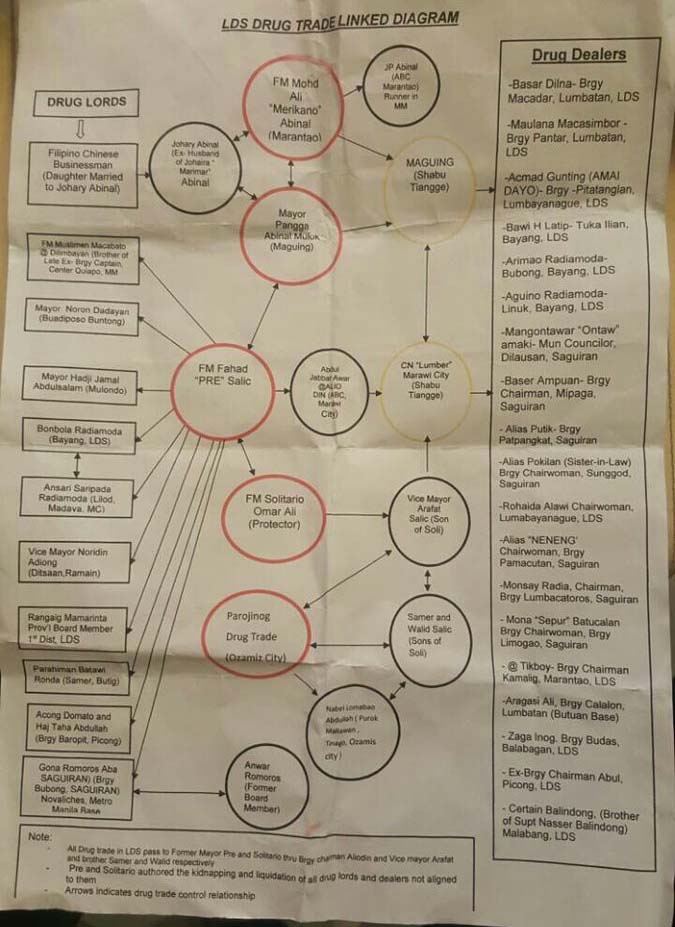 President Duterte releases matrix of politicians, alleged drug lords who allegedly helped fund the Marawi siege. Ian Cigaral
In a media interview, Duterte said he ordered security forces to trace the source of the enemies' money because terrorists were still able to stockpile weapons and offer resistance despite their dwindling forces more than a month after the urban warfare erupted.
"How come that Marawi until now is still fighting? Let me ask you a question. We're in the third month. How come the Maute brothers and the terrorists were able to stockpile so much ordnance and bullets and ammunition and IED? Saan nila kinuha 'yun?" Duterte said.
"And three months, I said, there were still fighting. I don't know if there's fighting going on. But that is one. And we were looking for the source of the money. And I will just point out to you," he added.
Duterte then claimed that slain Ozamiz City Mayor Reynaldo Parojinog was one of those who poured cash into the extremists that occupied Marawi. He added that some local officials in Central Mindanao are also financing terrorists, but did not elaborate.
On May 23, the president placed the entire Mindanao region under military rule after a band of homegrown terrorists loyal to ISIS overran Marawi City.
After the declaration reached the 60-day limit, Congress overwhelmingly voted to extend martial rule in the strife-torn region until yearend.
Duterte earlier admitted that there was a failure of intelligence in the course of the bloody standoff. He likewise blamed the Maranaos who were supposedly "in cahoots" with the extremists.
The commander-in-chief has also repeatedly said that drug money fueled the insurrection in Marawi.
"The military's under orders to clean the place also. Before we leave, we have to make sure," Duterte said.
"Every gun, every shabu inside a house will be taken out and the order is prosecution. Explain to me why do you have so many guns and explain to me why there are shabu or you have a lot of money," he added.
In July, government forces discovered 11 kilograms of high-grade methamphetamine or shabu during clearing operations in Marawi.
A few days later, authorities seized two kilos of shabu worth P10 million in the house of former Marawi mayor Omar Solitario Ali, which Malacañang said affirmed the link between the ongoing crisis in the city and illegal drugs.