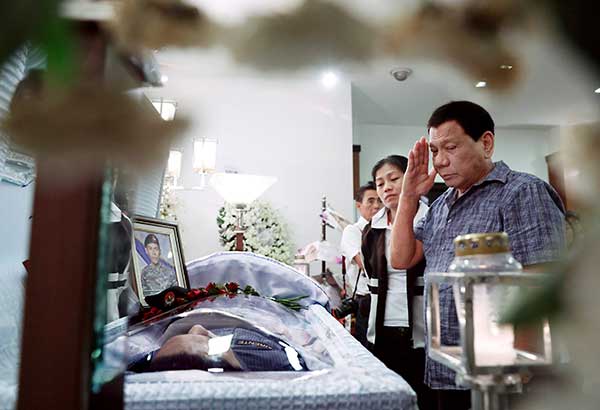 President Duterte pays his last respects to PO3 Alexis Laurente during a visit to his wake at the St. Peter Funeral Home in Davao City yesterday. Also in photo is Liezl, widow of the PNP Special Action Force commando, who was killed while fighting Maute terrorists in Marawi City last Sept. 15.
Duterte bares drug matrix of Maute supporters
DAVAO CITY, Philippines — President Duterte bared the other night a matrix of the illegal drug industry prevailing in Marawi City, Lanao del Sur as well as in Ozamiz City and other areas in Northern Mindanao.
The matrix showed individuals and politicians, including a number of barangay captains and other village officials, who were reported to be involved in the illegal drug trade in those areas.
"I have something for you tonight. I'll just pass it on… That's for public consumption already. (It shows) how they operated the drug campaign in Marawi and the entire Mindanao," Duterte said in a gathering with Davao media at the Matina Residential Enclaves here.
Among those in the matrix were former mayor Mohd Ali "Merikano" Abina of Marantao town, Mayor Pangga Abinal Mulok of Maguing town, former mayors Fahad "Pre" Salic and Solitario Omar Ali of Marawi City and the Parojinogs of Ozamiz City.
Salic was arrested last June. He earlier signified his intention to help the government resolve the Marawi crisis.
The President said drug money fueled the operation of the terrorist group that attacked Marawi on May 23. He stressed that the matrix shows the reason why local government and barangay officials were not tapped by the Armed Forces of the Philippines in its fight against the Islamic State-linked Maute terrorist group.
"That is the work of the intelligence for the last three months or two when we were able to penetrate the… insides of the… the entrails of the city. There they discovered that the Maute was really preparing for a long haul. Until now, they never ran out of ordnance, explosives, ammunitions and all," Duterte said.
He added that those identified to be linked with the illegal drug trade are "really fighting over supremacy of the supply."
"Whatever is illegal, whether or not you want to believe it, is always the driving force of greed, power and money. But to what extent was this drug used to build up the terrorist activity is something which we have really to find," Duterte declared.