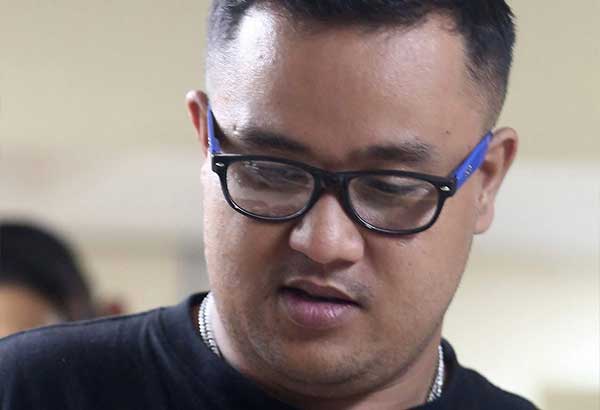 Solano surrendered on Friday to the Manila Police District through Sen. Panfilo Lacson and denied taking part in beating Castillo in hazing rites by the Aegis Juris fraternity. He said he was called by his fraternity brothers to the house where the hazing rites were held to give emergency medical assistance to Castillo. MIGUEL DE GUZMAN, File
Atio's mom doubts credibility of Solano
(The Philippine Star) - September 23, 2017 - 4:00pm
MANILA, Philippines — While they have doubts about the credibility of John Paul Solano, the parents of University of Santo Tomas (UST) Law freshman Horacio Castillo III said they still want to talk to the suspect in the hazing death of their son to know from him directly the circumstances that led to his death.
Solano surrendered on Friday to the Manila Police District through Sen. Panfilo Lacson and denied taking part in beating Castillo in hazing rites by the Aegis Juris fraternity. He said he was called by his fraternity brothers to the house where the hazing rites were held to give emergency medical assistance to Castillo.
"Kung nagsinungaling siya dati, maaring nagsisinungaling pa rin siya (If he had lied then, he might be lying again)," Castillo's mother Carmina said over radio dzMM yesterday.
But she said she wanted to know from him what her son had to endure in his final moments.
She added they would seek permission from the Department of Justice (DOJ) to talk to Solano and possibly to other suspects in police custody.
Sen. Juan Miguel Zubiri said the Castillo family had told him of their wish to confront members of Aegis Juris at tomorrow's hearing on the issue by the Senate committee on public order and dangerous drugs chaired by Lacson.
The panel chairman said they would be allowed to raise questions to fraternity members in accordance with Senate procedures.
In an earlier account, Solano said he took Castillo to the Chinese General Hospital (CGH) after seeing him lying on a sidewalk in Tondo in the morning of Sept. 17. He had identified himself to CGH staff as a medical technician for San Lazaro Hospital.
Police later treated him as a primary suspect when they found out he was lying.
Aside from Solano, another suspect in Castillo's death, Aeron Salientes, also turned himself in to authorities last Friday.
Carmina said she and her family felt some relief from Friday's developments. She called on the other suspects to surrender to the police.
Justice Secretary Vitaliano Aguirre III made the same call. "I am appealing to parents, friends or others involved in this case not to protect or coddle them as such would be tantamount to obstruction of justice," Aguirre told reporters at Castillo's wake on Friday at the Santuario de San Antonio in Makati.
"To those who know anything about what happened to Horacio Castillo III, if you were there when it happened, then you have blood on your hands, time to wash it with the truth and with justice for Atio," Aguirre told the media.
He added they may apply for protection under the government's witness protection program (WPP) if they think they are innocent but have information to help in the prosecution of those responsible.
Justice Undersecretary Eric Balmes said Solano has not applied for inclusion in the WPP to explain his continued detention at the MPD as a suspect.
"Hiding will not do you any good. Running from the truth is like being locked up in a jail with no bars. By your silence, you have already imprisoned yourself. We are waiting for your call," Balmes said. "Do no injustice, suffer no injustice."
The DOJ said potential witnesses may get in touch through hotline number 0995-4429241. The DOJ also said it is not inclined to place Antonio Trangia, the father of suspect Ralph, in the immigration lookout bulletin (ILBO). The elder Trangia is the registered owner of the red Mitsubishi Strada pick up (ZTV 539) used by Solano and Ralph to take Castillo to the hospital. Ralph was able to slip out of the country to the US, accompanied by his mother.
At the MPD, spokesman Supt. Erwin Margarejo told reporters Solano may remain in police custody for 15 days while prosecutors find probable cause for the filing of charges.
Solano submitted a judicial affidavit and a waiver of detention, "signed with consent and assistance of lawyer," allowing himself to be detained without charges beyond the 36 hour reglementary period.
The waiver, Margarejo explained, could help prosecutors and police study more closely the documents related to the charges that could be filed against Solano.
Margarejo said signing the waiver could be Solano's "legal strategy," adding such is allowed under Article 25.
After 15 days, the prosecutor would "endorse information to the court" or file charges against Solano, or "would issue a resolution indicating that Solano will be released for further investigation."
But MPD homicide section chief Senior Insp. Romel Anicete stressed the police would file charges against Solano tomorrow as directed by MPD director Chief Supt. Joel Coronel.
Police would not use up the entire 15 days before filing charges, Anicete told The STAR.
Yesterday, four men carrying two large boxes of pizza and a plastic bag of beverages visited Solano. Police said the men did not identify themselves but sources said they were lawyers.
A member of the Aegis Juris fraternity included in the immigration lookout bulletin attempted to clear his name in the killing of Castillo.
Meanwhile, Salientes denied he was with the group of Aegis Juris fraternity members who subjected Castillo to fatal hazing.
Salientes said he has not participated in any activity of Aegis Juris since he dropped out of law school a month after joining the fraternity in 2013.
When he continued his law studies after three years, he tried to catch up with old acquaintances.
"The current brothers I encountered when I came back were no longer the same because they have new members," he said.
He told his fraternity brothers that he could no longer join the group's activities, even basketball games, in compliance with his parents' conditions for his being allowed to attend law school again.
He said he could not even remember meeting Castillo or Solano.
On his inclusion in the immigration lookout order, Salientes said UST might have wrongly put his name on the list submitted to authorities.
He claimed he had classes last Sept. 16, the day Castillo allegedly attended the fraternity's "welcome rites."
"I had my class at 8 a.m., three subjects, I attended all of them, even recited in class, and finished at 4 p.m.," he said.
After classes he took his girlfriend to a bus station and at around 5 p.m. he took a bus to Pampanga.
He did not show up immediately after learning that he had been included in the ILOB because he felt he had to gather evidence first.
He said he had CCTV footage proving he took a bus to Bataan and arrived in a townhouse in Pampanga.
He said he even did not deactivate his Facebook account "to show good faith to everyone." – Evelyn Macairan, Marvin Sy