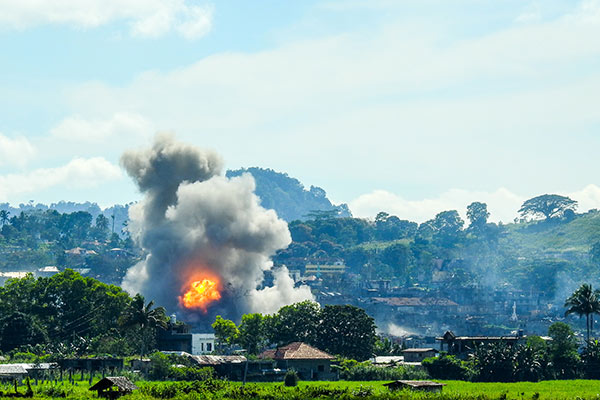 Smoke billows from houses after aerial bombings by Philippine Airforce planes on Islamist militant positions in Marawi on the southern island of Mindanao on September 17, 2017. The Philippine military said on September 17 it had captured the command centre of Islamic State group supporters who have besieged a southern city for nearly four months. Ferdinandh Cabrera/AFP
Palace says retaking of Marawi's Masiu bridge 'a significant development'
(philstar.com) - September 24, 2017 - 8:37am
MANILA, Philippines — Malacañang Sunday hailed the government troops' reclaiming of the Masiu Bridge in Marawi City, calling it a "significant development" in the fight against the Islamic State-inspired terrorists.
Masiu bridge, said to be the closest to Lake Lanao and a possible escape route of terrorists, was retaken by the military Friday noon, a feat that officials said further shrank the battle area in the strife-torn city.
Government forces have been trying to rid Marawi of terrorists since May but the militants' stiff resistance and the presence of captives have prevented them from doing so.
"Government troops' control of the Masiu Bridge is a significant development in our goal of ending the rebellion in Marawi," presidential spokesman Ernesto Abella said in a statement.
"Government troops are now in the final push and despite the enemy's continued resistance, our recent successes would hopefully lead to the eventual liberation of the entire city and pave the way back to normalcy," he added.
The Marawi crisis started last May 23 when members of the Maute group, which is said to have ties with the Islamic State, occupied Marawi, torched several buildings and held dozens of civilians hostage.
The siege, which has been tied to politicians with links to illegal drugs, had prodded President Duterte to impose martial law in the entire island of Mindanao.
Security forces have repeatedly missed self-imposed deadlines for the Marawi operations but have expressed confidence that the battle-ravaged city would be liberated soon.
Last week, Duterte said he would lift martial law in Mindanao once the military and the police declare the region to be safe.
"It will be lifted anytime after things are already… There's a clean-up and we can make sure that it does not end with the physical fighting. There's much to be done," Duterte told reporters in Marawi last Thursday
"We need to clean up and it could only be done by the military. But after, I said, 'Our task here, the military's task, we shall go home quietly.' They will pack their bags and maybe say goodbye to the people of Marawi,'" he added.
More than 900 persons, including 689 terrorists and 151 government troopers have died since the crisis started. — Alexis Romero