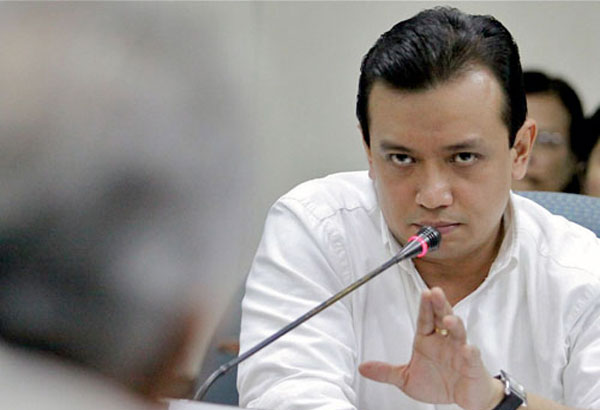 Former Customs Chief Nicanor Faeldon is seeking either the suspension or expulsion of his former friend Sen. Antonio Trillanes IV. Philstar.com/File
Faeldon files ethics complaint vs ex-comrade Trillanes
(philstar.com) - September 25, 2017 - 7:05am
MANILA, Philippines — Former Customs Commissioner Nicanor Faeldon on Monday filed a verified ethics complaint against Sen. Antonio Trillanes IV, his former comrade in mutinies against the Arroyo administration.
Faeldon wants Trillanes suspended or expelled from office for accusing him of involvement in smuggling, bribery and corruption when he was the Customs chief.
He cited three grounds for his complaint: Trillanes' allegedly improper and unethical conduct through "scurrilous, consistent and personal attacks" on his character and reputation, the senator's alleged abuse of rights and privileges and his alleged serious misconduct.
"Instead of heeding the sage words and guidance of the Court, Senator Trillanes turned for the worse. He became even more uncouth, even more malicious and even more indecent, improper and unethical, a terrible eyesore and a disgrace to himself and to the Philippine Senate," Faeldon's complaint read.
Trillanes accused Faeldon, a fellow mutineer in the 2003 Oakwood siege and 2007 Manila Peninsula Siege, of being at the heart of the smuggling of illegal drugs from China.
Faeldon resigned over allegations of corruption and incompetence, and has been replaced by former Drug Enforcement chief Isidro Lapeña.
The opposition senator said he will face the complaint "squarely."
"I will face that ethics complaint squarely because I believe that I did not do anything to warrant such a case. I will also not allow it to divert the focus from the real issue, that the mastermind behind the P6.4 billion shabu shipment is Mr. Paolo Duterte," Trillanes said.
Trillanes faces a similar complaint filed by Sen. Richard Gordon, an administration ally and chairman of the Senate blue ribbon committee.
READ: Lacson, Trillanes unfazed by Faeldon ethics raps
Last week, Faeldon filed an ethics complaint against Sen. Panfilo Lacson for a privilege speech where the senator alleged that Faeldon and other Customs officials received "tara" or bribes.
Lacson said he will file graft and economic sabotage charges against Faeldon on Thursday over the former Customs chief's alleged smuggling of rice.