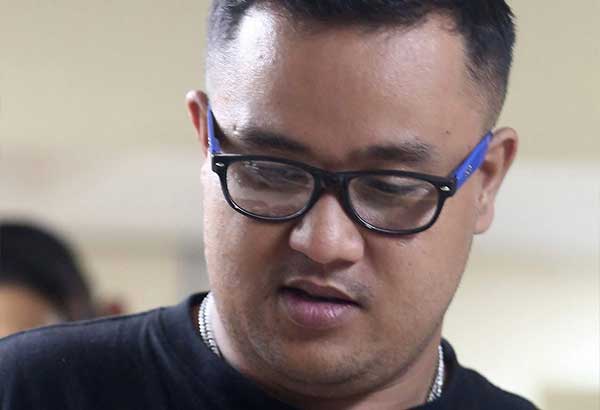 John Paul Solano, Aegis Juris member and principal suspect in the killing of UST law student Horacio Castillo III, is booked at the Manila Police District headquarters yesterday. MIGUEL DE GUZMAN
Suspect in Castillo hazing case seeks dismissal of complaint
(philstar.com) - September 25, 2017 - 9:33am
MANILA, Philippines — There is no such charge that can be filed against John Paul Solano, one of the primary suspects in the apparent fatal hazing of Horacio "Atio" Castillo III, and he should be freed from detention, his lawyer said.
Paterno Esmaquel, counsel of Solano, filed a six-page Omnibus Motion seeking the dismissal of the complaint and the immediate release of his client.
READ: MPD files murder, hazing, robbery raps vs Aegis Juris members
Esmaquel said that a complex crime of murder—punishable by the Revised Penal Code—and anti-hazing law—penalized under Special Law—cannot exist.
"There being a no complex crime of murder and violation of the Anti-Hazing Law, then there exist no offense charged in the instant case which thereby warrants its outright dismissal," the motion reads.
On Monday morning, the Manila Police District (MPD) filed murder, anti-hazing, perjury, robbery and obstruction of justice raps against Solano over the apparent fatal hazing of Castillo.
Solano, after hiding for several days, resurfaced on Friday afternoon and surrendered to authorities. He initially said that he found Castillo's "unconscious" body at a sidewalk in Balut, Tondo and brought him to Chinese General Hospital.
READ: Primary suspect in Castillo hazing case surrenders
It was later learned that Solano is a member of Aegis Juris Fraternity, believed to have conducted the hazing to Castillo that led to the death of the 1st year law student of the University of Santo Tomas.
Esmaquel stressed that since there is no charge "which warrants the continued detention of herein respondent in MPD" Solano should be released immediately from custody and detention of the MPD.
'He voluntarily surrendered'
Speaking to members of the media after the inquest proceeding, Esmaquel reiterated: "He voluntarily surrendered and in fact, it was the police who preferred the affidavit of voluntary surrender."
Solano on Friday, voluntarily surrendered to authorities, through the Office of Sen. Panfilo Lacson on Friday. He has since been detained at the MPD and has arrived at the DOJ wearing the yellow MPD detainee shirt.
"In connection thereto and to show his good faith and innocence, the herein respondent hereby undertakes to voluntarily appear and answer any accusation against him resulting from the death of the late Horacio," the motion further reads.
"Should he fail to appear, then he shall be considered to have waived, forfeited his right to preliminary investigation…We are just exercising the constitutional and statutory rights of Mr. Solano. I'm just wondering why they are in a hurry to file the complaint. It's still there, you read the omnibus motion," Esmaquel added.
Assistant State Prosecutor Susan Villanueva said that the Esmaquel's motion would be resolved along with the inquest proceeding.
READ: Aegis Juris fratman on lookout order left Philippines on Tuesday