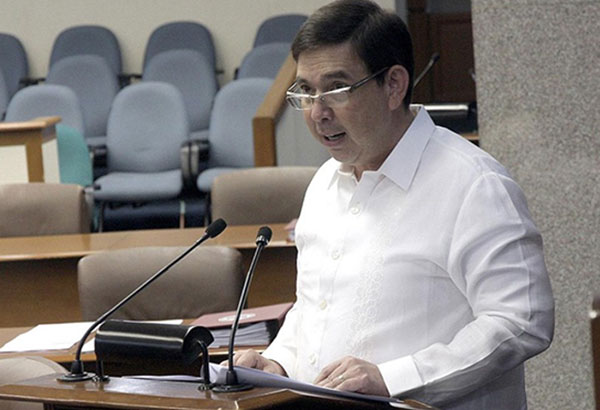 The annual clothing allowance of 1.12 million civilian national government employees will increase to P6,000 next year, requiring P1.12 billion in funds, Senate President Pro Tempore Ralph Recto said yesterday. Recto Office/File
Government employees to get P6,000 clothing allowance in 2018
(The Philippine Star) - September 25, 2017 - 4:00pm
MANILA, Philippines — The annual clothing allowance of 1.12 million civilian national government employees will increase to P6,000 next year, requiring P1.12 billion in funds, Senate President Pro Tempore Ralph Recto said yesterday.
The P6,000 for the purchase of what Recto describes as the "civil servant's OOTD" or official outfit of the day marks an increase of P1,000 from this year.
The increase will raise the total budget for clothing allowance to P6.71 billion, the amount indicated in the proposed P3.7-trillion national budget for 2018.
That amount, however, is for civilian employees only and does not cover clothing supplied to soldiers, policemen, firemen and other uniformed personnel.
The annual clothing allowance of a policeman, fireman and jail guard, whose agencies are under the jurisdiction of the Department of the Interior and Local Government (DILG), is about P14,000, acording to Recto.
The combined uniform budget of the DILG and the Department of National Defense – the latter for Army, Navy, Air Force servicemen – will reach P3.38 billion next year.
Overall, the government will shell out P10.09 billion for the uniform and clothing expenses of its civilian and uniformed personnel next year, Recto said.
He said the P10 billion does not include the clothing allowance for employees of local government units and government-owned or controlled corporations.
"The budget for the official apparel of the national government employees is three times the annual budget of the Department of Tourism," Recto said.
Under present rules, clothing allowances in an agency are pooled and the uniforms bought in bulk, but in some cases, allowances are given directly to employees.
In a related development, Philippine National Police (PNP) chief Director General Ronald dela Rosa ordered tighter regulation of the sale and distribution of official police uniforms, including patches and seals, which are being used by some unscrupulous individuals in their criminal activities.
Dela Rosa said the PNP units must ensure enforcement of applicable laws and regulations to curb the proliferation of unauthorized sellers, manufacturers and distributors of PNP uniforms and accoutrements.
He ordered all PNP offices and units to implement stricter measures on the regulation and control of the use, manufacture, sale and distribution of PNP-owned industrial designs of uniforms and accoutrements.
"The new order reinforces the courses of action that will guide the Task Force 'Bantay-Bihis' and other PNP units in implementing it," Dela Rosa said.
He admitted that PNP uniforms with patches and seals are being used by some criminals and other civilians to usurp authority and to take advantage for their unlawful actions that, in turn, destroy the image of the police force before the public.
He thus instructed all PNP uniformed personnel to wear the prescribed and authorized uniforms at all times while on and off duty.
Under Executive Order No. 297, civilians are prohibited from the unauthorized manufacture, sale, distribution and use of uniforms, insignias and other accoutrements of the PNP.
The EO reinforces Article179 of Republic Act 3815 or the Revised Penal Code which penalizes "any person who shall publicly and improperly make use of insignia, uniforms or dress pertaining to an office not held by such person or to a class or persons of which he or she is not a member."
EO 297 also orders the "immediate closure of the establishment, plant or office where the uniforms and other items are illegally manufactured, stored, sold or distributed."