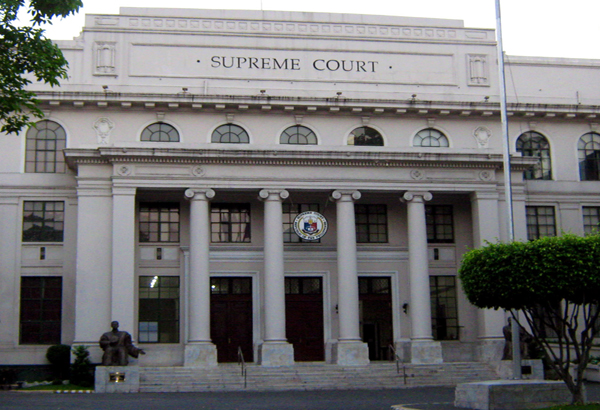 The SC has ordered the dismissal of a Surigao del Norte judge for brandishing an unlicensed armalite and siring a child from a woman other than his wife. FILE
SC dismisses judge linked by Duterte to drugs for misconduct, 'immorality'
(philstar.com) - September 26, 2017 - 10:25am
MANILA, Philippines — Gross misconduct and immorality grounds—and not drug links as alleged by President Rodrigo Duterte—warranted Surigao del Norte Judge Exequil Dagala's dismissal from the bench.
Dagala, presiding judge of the Municipal Circuit Trial Court of Dapa-Socorro, Dapa, Surigao del Norte, was earlier identified by Duterte as one of seven judges allegedly protecting drug lords.
The high court last year cleared Dagala and two other "narco-judges" following the results of the fact-finding investigation by retired Associate Justice Roberto Abad.
READ: 1,000 execs, judges in new narco list
But the SC sitting as full court, in a per curiam decision dated July 25, 2017, dismissed Dagala for being deemed guilty of immorality and gross misconduct for being caught on video wielding a firearm and siring a child with a woman other than his wife.
The high court also ordered the forfeiture of Dagala's retirement and other benefits except for his accrued leave credits. He is also "perpetually disqualified" from re-employment from taking any government or government-owned and controlled corporation position.
The SC was acting on a letter-complaint sent anonymously on Sept. 30, 2015.
Narrated in the said letter was an incident on Sept. 29, 2015 where the unnamed complainant "saw Judge Dagala walking back and forth, shouting invectives at the lot's occupants and brandishing an M-16 armalite rifle to intimidate them."
A video recording of the incident was also sent to Office of the Court Administrator (OCA).
The SC, citing findings from the OCA, noted that a "certification from the Philippine National Police Firearms and Explosives Office further disclosed that, per their records, Judge Dagala is not a licensed/registered firearm holder of any kind or caliber."
The SC pointed out that Dagala "neither refuted the allegation that he brandished a high-powered weapon nor questioned the veracity of the video recording of the Sept. 29, 2015 incident."
"Judge Dagala's actuations, as recorded in the video, are unacceptable for a member of the bench and should merit a finding of administrative liability," the SC said.
During the course of the OCA's probe on the letter-complaint, it was also found out, through the National Bureau of Investigation, that Dagala "sired children with three different women."
READ: CJ Sereno expresses concern over Duterte's narco list
The court noted that "while Judge Dagala may be 'excused' for having sired two children prior to his marriage, the record is clear that he had his third child during the subsistence of his marriage with [his wife.]"
"Immorality is a recognized ground for the discipline of judges and justices under the Rules of Court," the SC said.
It added: "The record is clear as evidenced by the certificate of live birth, showing Judge Dagala was father of the child as shown by his signature in the affidavit of acknowledgment of paternity and the date of birth was during the subsistence of his marriage to his legal wife."
The high court also stressed that "acts of immorality are proscribed and punished even if committed in their private life and outside of their salas because such acts erode the faith and confidence of the public in the administration of justice and in the integrity and impartiality of the judiciary."
Lastly, the SC held: "A judge's personal behavior outside the court, not only while in the performance of his official duties, must be beyond reproach, for he is perceived to be the personification of law and justice."